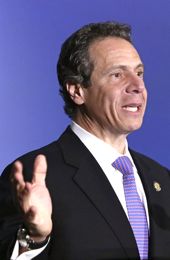 Ticketing for texting & driving has hit record highs in New York and California, based on numbers just released for 2014.
New York reports texting & driving tickets increased 35 percent in 2014. In California, texting tickets also increased in 2014, roughly 10 percent, but the overall number of distracted driving citations slumped significantly in the Golden State, from 426,360 to 359,292.
Most distracted driving tickets in California are for cell phone use, which was down again in 2014, with texting making up less than 10 percent of tickets written for talking & driving.
When it comes to enforcement, the numbers suggest that the states have headed in different directions during the terms of their two governors, both of whom took office in 2011.
New York Gov. Andrew Cuomo, pictured top left, has made distracted driving a key safety issue, launching numerous initiatives and increasing punishments for violators since taking office.
"I thank law enforcement agencies across the state for their continued vigilance and for making it crystal clear that texting while driving will not be tolerated in New York," Cuomo said in announcing the 2014 numbers on April 13.
New York law officers handed out 75,353 tickets in 2014 for texting, compared with 55,673 in 2013. The largest increase was in New York City, which recorded a jump of 50 percent. Cell phone ticketing numbers were not available.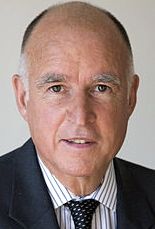 California Gov. Jerry Brown vetoed several bills seeking to increase fines for distracted driving. Brown, right, also signed off on change to state traffic laws allowing texting & driving in hands-free mode.
Overall, ticketing for handheld cell phone use and texting in California fell 25 percent from 2011, also the year Brown took office, according to data from the California Office of Traffic Safety.
2014 saw 329,575 tickets written for handheld cell phone use, compared with 399,064 in 2013 and 425,041 in 2012. The high of 460,487 was reported in 2011.
Chris Cochran, spokesman for the Office of Traffic Safety, said of reasons for the downward trend: "All of it is speculation, to a certain degree. We know from surveys that more people have eliminated or cut way back on their usage while driving, but there remains a hard core who have not.
"The percentage of drivers observed using cell phones peaked in 2012 in California at nearly 12 percent. In 2014 it had dropped to under 7 percent. Other factors could include police department traffic units still not being up to full strength following the recession and that more people are likely using Bluetooth and speakerphones, which are currently legal (albeit still dangerous)."
Texting ticketing in California hit a high in 2014, though, with 29,633 citations.
The relatively low cost of distracted driving tickets in California also may be behind the slump in overall ticketing, the San Jose Mercury News speculated in a report on ticketing. The $161 fine in California compares with a first-time maximum fine of $200 in New York, plus demerit points.
In New York, texting & driving tickets are up about 700 percent since 2011.
Read more about California distracted driving laws
Read more about New York distracted driving laws