Lawmakers trying to come to grips with the technology behind distracted driving won't find the going any easier when they get back to work in 2015.
Police across the nation already complain that state distracted driving laws are ineffectual in the era of smartphones — devices that are essentially handheld personal computers. Many state laws were written when cell phone calls were the main concern — and even text messaging was a relatively new phenomenon.
Among the high-tech products distracting drivers — and challenging lawmakers in 2015:
Google Glass: Wearable technology that allows users to control content such as text messages with head movements and voice commands.
The "iWatch": Apple's Watch is expected to hit the market in spring 2015. It features a touch screen with a watch-style crown for scrolling of text. Users can answer phone calls, and respond to texts and instant messages.
A host of Internet-connected vehicle technologies such as Apple CarPlay. Auto makers say these interactive features actually reduce distractions since they replace handheld wireless devices.
Of course, smartphones themselves continue to grow in size and in the number of addictive features they offer via applications. Smartphones have practically universal ownership among U.S. teens and young adults, widely considered the most dangerous of distracted drivers. And global ownership of smartphones is predicted to nearly double in the next three years, according to Credit Suisse.
"Because technology is evolving so quickly, it is difficult to draft a statute that imposes a comprehensive and enforceable ban on wireless electronic devices while driving," says legal researcher Adam Gershowitz of William & Mary Law School, who has studied the issue.
The challenges are compounded by generational issues as well. Lawmakers tend to be significantly older than the early adopters drawn to wearable technologies and users of the latest smartphones applications. The process of compromise and amendment typical of successful state legislation tends to distend carefully worded proposals that may have been crafted backstage — by more tech-savvy aides and advisers.
Google Glass: Already a challenge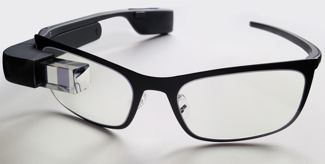 Google Glass has been addressed to a limited extent by the courts and by a few legislatures. No state has a statute that specifically forbids Google Glass while driving. Google has defended its technology as safe for driving and an improvement on using cell phones. A new study, however, finds that the high-tech glasses produce a small blind spot for wearers.
Google Glass may or may not violate the few state laws that address the watching of videos while driving.
Proposed legislation has sought to inhibit the use of "head mounted" electronic devices, meaning motorists easily could argue they were not using the spectacles' computer functions. This was the case in California, where a tech tester who was stopped and cited for using Google Glass beat the rap by saying she was not using its computer display. (The ticket was for using a "monitor" while driving, not for a violation of cell phone or texting laws.)
Other legislation seeks to prohibit the wearing of head-mounted computers, which may be effective only while Google Glass remains physically distinctive and has the market to itself.
Google Glass-inspired legislation has been introduced to date in Maryland, Illinois, Delaware, New Jersey, Wyoming, New York, Missouri and West Virginia.
Gershowitz of William & Mary concludes that "most of the proposed (Google Glass) statutes are so badly drafted that they would be practically unenforceable." He adds that the broad "hands-free" language in state distracted driving statutes has left "a large loophole" for Google Glass.
Gershowitz says laws limiting the use of Google Glass while driving should prohibit the wearing of electronic devices as well as the using of them. They also should be worded to cover other forms of wearable computer technology, he says.
Gershowitz warns that "once Glass is in mainstream use it will become much harder for legislatures to ban its use while driving," in part because users will install prescription lenses and use Glass as their regular glasses.
Wearable tech: Time for studies
The Apple Watch and rival watch-like communications devices also present legal gray areas, although it's fairly clear that use of wearable technologies are protected, for the moment, where existing distracted driving laws OK use of hands-free devices.
Some states responded to ambiguities and loopholes in early distracted driving laws by prohibiting the "holding" of wireless communications devices, instead of barring an ever-changing set of tech functions. (This plays into the widely held but controversial theory that hands-free use of cell phones is safer than holding them.) Some states allow for one-button use of wireless communications devices, an interpretation that may be tested with the Apple Watch scrolling "digital crown" (pictured below right).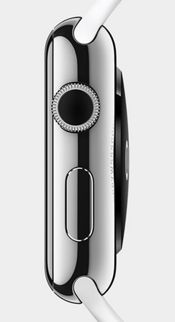 Texting on an Apple Watch would be prohibited in some states as the specific activity of "texting while driving," but not in those that exempt hands-free texting.
Automakers and Apple have lobbied in recent years for specific exemptions for hands-free texting, presumably to protect their vehicle-dashboard technologies. Some states added these exemptions for hands-free or voice-controlled texting as they modernized their distracted driving laws.
The difference between using a "smartwatch" and a smartphone in hands-free mode is important, however: In most cases, a driver would take his eyes away from the road to read a text message on a smartwatch, but would be legally doing so without holding the device. That loophole could prove deadly.
The Apple Watch issue may arise quickly in 2015, unlike the situation with Google Glass, a product with a slow and measured consumer rollout:
"We believe Apple Watch will prove to be a home run with the fastest new product first-year-unit sales volume in the company's history," said Brian White, chief of tech research at at Cantor Fitzgerald.
It's not just an issue in the U.S. In Britain, the Department for Transport said the Apple Watch would be subject to current distracted driving penalties — but that regulators were studying "options." In Toronto, local police expressed concerns that laws against handheld devices wouldn't cover the Apple Watch.
Even with laws barring the use or wearing of smartwatches, police would be hard pressed to determine if a passing driver were wearing a computer watch or a regular watch. Apple's Watch page shows multiple options in design and wrist bands adding up to almost three dozen looks.
Law researcher Gershowitz points out that the proposed Google Glass laws already would be behind the tech times because none of them address smartwatches: "Put simply, the proposed legislation in eight states to ban wearable electronic devices is already outdated long before it has even been enacted. Moreover, entirely new types of wireless devices are surely on the way."
The connected car's built-in distractions
Smart dashboards: January brings the Consumer Electronic Show, and undoubtedly more colorful and futuristic on-screen displays born of collaborations between vehicle makers and tech overlords Google and Apple. "The car is likely to become your most powerful mobile device," says Irwin Gotlieb, a media agency power broker.
AAA has its reservations, warning of "a looming public safety crisis" from in-vehicle communications technologies.
The connected car, offering multiple screens and wi-fi for all aboard, is in the immediate future. AAA has predicted a "five-fold increase in infotainment systems in new vehicles by 2018." More than 30 GM models are becoming
4G LTE
hotspots in coming months, for example. On offer are direct connections to the Internet, unlike most of the hotspot products of recent years. Audi's 4G hotspot allows for up to eight independent connections.
Consumers expect the conveniences of the Internet anywhere and everywhere, and automakers, tech giants and marketers will see that they get it. Driver distractions both foreseeable and unimagined are sure to result.
Some states dealt with the early dangers of in-vehicle video entertainment more than a decade back, as small screens became commonplace in family vans and SUVs. These laws, such as Alaska's, restricted placement so that drivers could not watch videos from sources such as DVDs and TV broadcasts. (A few of these laws since have been amended to allow for in-dash functions such as navigation.)
Entertainment aside, dashboard systems related to operation of the vehicle itself — and its convenience features such as climate and audio — continue to become more versatile, demanding and distracting. Add phone apps, increasingly sophisticated mapping and navigation, and the lures of marketers eager to pitch captive audiences on roadside conveniences such as upcoming restaurants.
"It's time to consider limiting new and potentially dangerous mental distractions built into cars," AAA president Robert Darbelnet says.
AAA researchers recently examined the differences in amount of distraction provided by automaker systems. Chevrolet's MyLink system was found far more distracting than Toyota's Entune system in a recent AAA study. (Apple's Siri system also graded poorly in the study.)
Potential dangers of these connected-car systems have drawn the attention of federal Department of Transportation, which has nonetheless tread carefully on the issue. Several years ago, the National Highway Traffic Safety Administration issued voluntary guidelines encouraging automobile manufacturers to limit the distraction risk for in-vehicle electronic devices. The DOT has come under sporadic fire for failure to regulate automakers' development of these interactive electronic devices
No states have yet sought to rein in electronic features built into vehicles, even though control of distracted driving is seen largely as a state-level issue in the U.S.
Complicating matters is the lobbying power of Google and Apple, both of whom have found early success in influencing distracted driving legislation that could affect their mobile products — or the rolling expansions of their electronic ecosystems. In the most notable cases, existing state laws have been modified to allow for hands-free and/or voice-activated texting and phone calling. This was the case in California, which had been been a leader in fighting distracted driving before the administration of Gov. Jerry Brown. California is home of both Apple and Google.
Yet voice-activated technology — that is, hands-off operation — is no guarantee distraction won't arise. Drivers using voice-controlled systems take their eyes off the road more than expected, MIT safety researchers have found.
"Just because a new technology does not take the eyes off the road does not make it safe," said another report from the University of Utah.
— Glenn Abel