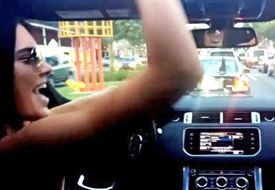 Another celebrity is taking heat for distracted driving, this time reality star Kendall Jenner.
Jenner posted an Instagram video that showed her and model pal Ashley Skye getting down to Avril Lavigne's "Sk8er boy" while cruising through heavy traffic in L.A.
The ladies are dancing in their seats, pointing and looking at each other as they sing along to the summer of 2002 hit, which came out when they were something like 7 years old. They pass through a pedestrian crosswalk and scoot past vehicles slowed in traffic on both sides of their vehicle.
"Being uber girly," Jenner's post says. More like uber stupid, distracted driving advocates say.
"No star or her family should set an example that will likely kill people," People Against Distracted Driving president Mike Kellenyi told Fox TV. Kellenyi lost his teen daughter in a texting crash.
Jenner's younger sister recently posted a video of her driving with no hands while dancing.
Meanwhile, Jenny McCarthy, who is plenty old enough to know better, at least raised a kid who does.
The outgoing "View" co-host told this story about her son:
"We're driving in the car and of course I text and drive," she said on her new satellite radio show. "He called the police on me and said, 'My mom is texting and driving right now.' True story."
McCarthy grabbed the kid's phone and threw it out of the car window.