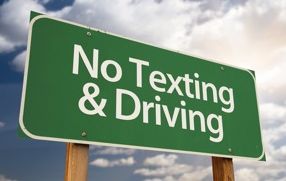 The distracted driving landscape shifted in four states with the coming of the second half of 2014.
In New Mexico and South Dakota, text messaging and driving has been banned for all drivers.
In New Jersey, distracted drivers face penalties that go as high as $800 per offense.
In Hawaii, fines go to a uniform $250, a significant bump for first offenders who previously paid $100.
New Mexico's texting & driving plan sailed through the Legislature earlier in the year, with only five lawmakers opposed in the House and one in the Senate. It was then signed into law by a receptive governor. Fines are $25 (first offense), then $50. Enforcement is primary, allowing police to stop and cite violators for that reason alone. "There is no text message that is worth a person's life," Gov. Susana Martinez said upon signing the act. She said texting while behind the wheel is the leading cause of death for New Mexico's teen drivers. The law also bars typing on smartphones while driving.
South Dakota's fine is heftier, $100, but enforcement is limited to secondary status, meaning police will have to see another offense such as weaving or driving too slow. The new distracted driving law almost didn't happen: The two legislative bodies in South Dakota both approved texting & driving bans, but couldn't agree on an approach. The issue appeared dead for the 2014 session but a dramatic turnaround of March 13 produced a compromise bill that made it to Gov. Dennis Daugaard's desk. He signed the measure March 28. The new statewide law leaves local ordinances in force, so drivers could find themselves pulled over for texting alone.
New Jersey, a longtime leader in distracted driving laws, has found its way to what's billed as "the toughest hands-free cell phone law in the nation." That means penalties have gone up significantly. A first offense to texting & driving or using a handheld cell phone while behind the wheel brings a fine of $200 to $400. The second offense ranges from $400 to $600. The third and subsequent peaks out at $800, with three points vs. license. And a possible 90-day suspension of license for serial offenders. "We've had enough" of distracted drivers, says state Sen. Richard Codey, whose S69 was approved by the governor more than a year ago but just went into effect.
Hawaii's year-old distracted driving law saw a set of changes go into effect July 1, with a set fine of $250 the headline item. The Legislature also made violations in school zone or construction areas subject to a $300 fine. Previously a first-time violation cost $100 while subsequent offenses within a year crept up to $300. The revised law also makes clear that drivers stopped for red lights cannot use handheld electronic devices. (There was some question about the effective date based on when the governor signed the law, Hawaiian media reports say.)
Vermont's handheld cell phone bill was signed into law in late June, but doesn't go into effect until Oct. 1.
South Carolina's long-awaited texting ban became effective June 9 but it's subject to a six-month warning period. It brings a mere $25 fine.
In New Hampshire, July 1 marked the start of the one-year countdown to when drivers won't be allowed to use handheld cell phones — the law goes into full effect July 1, 2015. The state already has a texting ban.