The New Hampshire Supreme Court has upheld the conviction of a man sent to prison for reckless driving while reading a text message. The resulting wreck left a teenager riding in another vehicle with brain damage.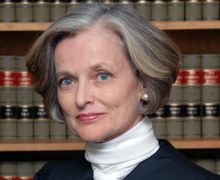 Chad Belleville was found guity of second-degree assault after he admitted to reading the text while his southbound SUV crossed the median and hit two northbound vehicles, leaving the boy with brain damage.
Justice Carol Ann Conboy, left, wrote Feb. 11 that Belleville's driving on Dec. 23, 2010, was a "gross deviation from the conduct of a law-abiding citizen." He remains in prison for up to seven years.
Belleville, 30, maintained the evidence was insufficient to prove that his conduct was reckless.
"I just looked down and the next thing you know I crashed," he told police. The justices were unanimous in rejecting his appeal.
Reading a text message while driving is not illegal in New Hampshire, although writing a text message is. The ban on texting & driving went into effect 11 months before the wreck.
Belleville, who lives in Barnstead, was driving on Route 28 near Pittsfield. He crossed over a turning lane and two sets of solid double yellow lines, narrowly missing one vehicle and then smashing into a Subaru carrying five family members.
The son, Donald Flanders III, was thrown from the vehicle and suffered multiple serious injuries, resulting in brain damage. The SUV also hit a third vehicle.
Belleville later admitted to police he had read a text message at the time. Just after the crash he erased his mobile phone's call history.
The decision written by Justice Conboy noted:
The defendant chose to look down at a text message long enough to allow his vehicle to cross nearly three lanes of traffic into the opposite travel lane without returning his attention to the road. At no time did the defendant brake or take any evasive action. … This was more than a case of momentary inattention, such as might be caused by changing a radio station or sneezing.
With regard to texting and driving, the justices found: "A rational trier of fact could have concluded that the defendant was aware of the risk that looking down to check a text message while driving could cause an accident, and that he chose to disregard that risk." The high court said Belleville's erasing of his cell phone history was evidence of this disregard.
Read the New Hamshire Supreme Court texting & driving ruling (PDF).