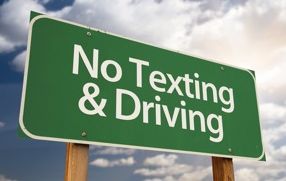 California teens are breaking the law if they text message while driving. Period.
Gov. Jerry Brown has signed legislation closing a loophole that allowed drivers under 18 to use voice-activated technology to text while driving.
The novice drivers aren't allowed to use communications devices such as smartphones, whether hand-held or hands-free. (Adults are permitted to use hands-free devices.) But a 2012 revision to California's distracted driving laws permits use of hands-free technology for texting, and that change applied to all drivers.
The 2012 change to the driving laws followed lobbying by the auto industry, which is protecting its heavy investments in "infotainment" dashboards.
The 2012 revision also protected use of voice-responsive apps such as the widely used Siri on Apple's iPhones. Apple is developing vehicle dashboard systems as well and has lobbied against distracted driving laws that target voice-activated technologies.
"Even though teens may not be manually distracted, they could be visually or cognitively distracted by using Siri, Bluetooth, and touch-screen technologies," said the new law's author, freshman Sen. Cathleen Galgiani, D-Stockton
Hands-free texting was not a widespread feature when California banned texting and driving in 2007.
The Senate plan clarifying that teens can't text and drive under any circumstances (SB 194) was signed by Gov. Jerry Brown on Oct. 11. It won easy approval from the Assembly in early September, following up the Senate's OK of April.
Supporters of Galgiani's distracted driving legislation included the California Association of Highway Patrolmen and the Automobile Club of Southern California.
The Assembly considered a 2013 plan (AB 313) to override the 2012 law permitting hands-free texting, but it was rejected by the Transportation Committee. It was then revived, but eventually was abandoned by its author.
Brown signed the law permitting hands-free texting in 2012, the same year he vetoed an increase in California distracted driving fines.
Read about California's distracted driving laws.