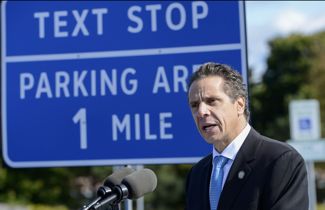 New York is setting up "texting zones" on state thruways and highways, with rest stops, Park-n-Ride lots and the like doing double duty as safe harbors for text messaging.
Sorry, no cyber cafes or blazing-fast wireless service. The initiative appears to boil down to 298 highway signs going up urging motorists to pull off the highway — safely and in designated areas — instead of engaging in distracted driving.
"We are sending a clear message to drivers that there is no excuse to take your hands off the wheel and eyes off the road because your text can wait until the next texting zone," said Gov. Andrew Cuomo. The new signs are "the intelligent way" to get that message across, said the governor, who has made the fight against texting and handheld cell phone use in New York a priority during his time in office.
Cuomo, meanwhile, announced a 365% increase in distracted driving tickets issued in summer 2013 vs. summer 2012. State Police issued 21,580 tickets, compared with last summer's count of 5,208.
There are 91 designated texting zones, the state announced at a Sept. 23 promotional event for the initiative. Wording includes the well-established distracted driving slogan — such as "It can wait. Text Stop: 5 Miles."
"If you wait until you are in a rest area or service area, you literally may be saving someone's life, and the life you save may be your own," the governor said.
Thruway Authority Executive Director Thomas J. Madison said: "We are always looking at new and better ways to make the highway even safer, and Gov. Cuomo's text stops initiative is an excellent way for drivers to stay in touch while recognizing the dangers of using mobile devices while driving."
The summerlong crackdown in New York was unveiled in late May, at the same time Cuomo hiked the DMV points assessed for texting & driving, and stiffened penalties for teens who text while behind the wheel. The 100 days between Memorial Day and Labor Day are known as the deadliest days on the road for teenagers.
The summer sweep started on the July 4 holiday weekend and lasted through the Labor Day weekend. It included increased enforcement and patrols, particularly through undercover operations using unmarked State Police SUVs to catch distracted drivers. The designated SUVs have platforms that allow officers a birds-eye view of any prohibited activity in smaller vehicles.
"New York state is continuing to use every tool at its disposal to combat texting while driving," Cuomo said at the Sept. 23 texting zones event. "In addition to tougher penalties, new detection methods for State Police and ongoing public outreach efforts, we are now launching special texting zones to allow motorists to pull over and use their phones."
The signs will "remind drivers that there is a nearby opportunity for them to legally and safely use their phone," the governor said.
Like many states, New York also uses electronic highway signs to highlight its distracted driving laws.
New York State Police Superintendent Joseph A. D'Amico said of the crackdown: "We told motorists we would be out there looking for violators and we found far too many. The accidents that result from the use of handheld devices are completely avoidable, which is why we will continue to target distracted drivers who engage in this dangerous activity."
View more New York texting zone signs.