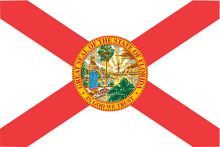 Florida distracted driving news archive: This page collects Hands Free Info's reports on distracted driving laws and legislation for the years 2008, 2009 and 2010.
For 2011-present, view the current Florida distracted driving news page.
Florida 2010 legislation notes:
No distracted driving legislation succeeded during the 2010 legislative session, despite Gov. Charlie Christ's promise to sign a ban on text messaging. 18 vehicle safety bills regarding talking and texting had been under consideration.
Rep. Alan Williams says he'll be back with another piece of legislation that would address text messaging while driving in Florida: "I'm sure folks don't want their rights infringed upon," Williams said in September 2010. "But at the same time we have to save lives." The North Florida legislator's HB 211, primarily a drowsy driving bill, sought to prevent use of handheld telecommunications devices by school bus drivers.
Former State Sen. Frederica Wilson, who authored distracted driving legislation in 2009 and 2010, now serves as a congresswoman from South Florida. She vows to push for federal legislation that would protect minors from distracted drivers.
The Florida Highway Patrol has ordered its troopers to stop using handheld cell phones while driving, unless a hands-free device is employed. The policy, announced in October 2010, also requires troopers to pull over before using a GPS system.
Broward County's school system and its employee union have agreed upon penalties for bus drivers who text or use cell phones while behind the wheel: Texting, termination. Cell phone call, five-day suspension and then termination on second offense.
The House version of a texting and driving bill (HB 41) that's advanced in the Senate (SB 448) died in committee. House Finance and Tax Council chairwoman Rep. Ellyn Bogdanoff, R-Fort Lauderdale, refused to allow a vote, claiming that the activity is already prohibited by a general traffic law. Bogdanoff says the texting bill is "intellectually dishonest." She has since moved on to the state Senate.
The House's Roads, Bridges & Ports Policy Committee held a distracted driving legislation workshop on Feb. 17. The goal was to consider forming a single bill out of numerous plans submitted for the 2010 session. Rep. Mike Horner, R-Kissimmee, said a "broad consensus" had been reach on prohibiting text messaging, but not limits on cell phone use while driving. Also up for more debate: Whether a ban would call for "primary enforcement" — meaning a law office could pull over a driver for that reason alone — or secondary enforcement, which requires another reason for the stop.
Sen. Frederica Wilson, D-Miami Gardens, refiled the so-called Heather's Law (SB 244), which would prohibit use of handheld cell phones while driving. She also submitted a stand-alone text messaging bill (SB 374).
Heather's Law is named after Heather Hurd, 27, killed by a trucker who was fumbling for his text messaging device as he slammed into her vehicle. Her fiance was seriously injured and another woman died as well. The wreck occurred on Florida's infamous "Bloody 27″ highway. "This year we hope to make Heather's memory more impactful by passing (the bill)," Wilson said.
Sen. Thad Altman, R-Viera, filed SB 168, seeking to outlaw text messaging while driving in the Sunshine State. While he supports restrictions on cell phone use, he went texting-only: "We're focusing on the most aberrant, dangerous behavior — reading and writing texts."
Rep. Doug Holder, R-Sarasota, is back with distracted driving legislation that would ban texting while behind the wheel for all Florida drivers.
Sen. Carey Baker, R-Eustis, first introduced texting while driving legislation in 2007. Baker has two bills pending — SB 324 and SB 326 — and plans to file another that would prevent teens from using any kind of handheld portable devices while behind the wheel. "It's slowly been building," Baker says of distracted driving legislation. "But I think this year (2010), something's going to pass."
The city of Parkland (Broward County) enacted a ban on text messaging while driving on Oct. 7, 2009. Violations of the Parkland ban bring $100 fines. The city has asked the state attorney general for a ruling on the legality of individual cities banning texting while driving. Parkland appears to be the first Florida city to outlaw text messaging for motorists.
2010 legislation (all dead):
SB 448: Secondary enforcement. Fines of $30 plus court costs/thereafter, $60 plus costs. A violation resulting in a crash adds 6 points to license. Based on the federal DOT's sample legislation for texting bans. Approved by the communications panel April 14. Approved by the Senate Transportation Committee on March 24 and April 19. Sent to the full Senate. Companion bill to HB 41, below. (Detert)
HB 41: Seeks to ban text messaging and related activities. Approved by the The Roads, Bridges and Ports Committee on March 10. Died in the House finance committee, with the chairwoman refusing to allow a vote. Companion bill to SB 448, above. (Holder)
SB 244 (Heather's Law): Seeks to prohibit use of handheld cell phones while operating a motor vehicle in Florida unless a hands-free device such as a Bluetooth headset is enabled. Secondary enforcement. Approved by the Senate Transportation Committee on March 24. (Wilson) (Bill was refiled from 2009).
SB 1144: Would prohibit school bus drivers from using mobile telecommunications devices. Approved by the Senate Transportation Committee on March 24. (Smith)
SB 324: Would outlaw text messaging while driving. Approved by the Senate Transportation Committee on March 24. (Baker)
SB 328: Seeks to prohibit text messaging while driving. Includes paging and use of devices to access Internet. (Dockery)
Florida House Bill 323: Would prohibit text messaging by drivers. (Long)
HB 333: Would outlaw use of cell phones unless a headset or hands-free accessory is employed. Secondary enforcement, meaning a violation cannot be the sole reason for stopping the driver. (Garcia)
SB 608: Companion bill to HB 333. (Rich)
HB 687: Seeks to prohibit use of cell phones in school zones. Nonmoving violation with fines doubled. (Chestnut)
SB 326: Seeks to outlaw text messaging by school bus operators and railroad engineers. (Baker)
SB 522: Would restrict drivers under the age of 18 from text messaging or using cell phones. One point against license and possible loss of license. (Gelber)
SB 168: Would prohibit use of electronic communication devices to send or receive text-based communications while operating a motor vehicle. (Altman)
SB 592: Prohibits drivers under age 18 from using any handheld electronic devices. Secondary enforcement, meaning the driver must be stopped for another offense. $50 surcharge added to any other moving violation. Law officer may issue warning or safety materials instead of assessing surcharge. (Crist)
SB 374: Would prohibit text messaging by all drivers. (Wilson)
SB 934: Would prohibit drivers from text messaging and using handheld cell phones. Filed but withdrawn by sponsor. (Deutch)
HB 221: "Drowsy driving bill" that included restrictions on school bus drivers' use of handheld electronic devices. (Williams)
2009 legislation (dead):
SB 172: Would prohibit cell phone calls by drivers unless a headset or hands-free accessory is used. Also, HB 345. Died in Committee on Transportation.
SB 1578: Seeks to outlaw text messaging while driving in Florida. Died in Committee on Transportation.
HB 1127: Would ban cell phone use by drivers under 18 unless a hands-free device is employed. Also allows for additional penalties against drivers have been cited for another offense but are found to be text messaging or using other handheld electronic devices. Died in Roads, Bridges & Ports Policy Committee.
HB 261 and S 212 would ban use of wireless communications devices by drivers under the age of 18. Died in Roads, Bridges & Ports Policy Committee.
HB 677: Would prohibit use of cell phones while driving through school zones. Also, SB 112. Died in Roads, Bridges & Ports Policy Committee.
HB 377 seeks to outlaw text messaging while driving a motor vehicle. Died in Roads, Bridges & Ports Policy Committee.
HB 473: Would ban use of mobile phones by school bus drivers while the motor is running. Died in Economic Development & Community Affairs Policy Council.
Florida 2009 legislation notes:
The Florida Legislature has turned its attention to budget matters and would not be considering legislation designed to rein in use of cell phones and text messaging devices by drivers, the Associated Press reported April 28, 2009.
"I know the lawmakers don't want to do anything about it," said Sen. Frederica Wilson, D-Miami, co-sponsor of a bill seeking to ban text-messaging devices. "They have a little term, 'We can't legislate everything.' It's taking forever to get this bill through a committee and it's been filed year after year."
The Miami Herald editorialized on the Florida cell phone law resistance:
"Clearly, the Legislature is acting as hand-maiden to the telecommunications industry on this issue. When local governments, including Miami-Dade County, banned hand-held cellphone use in cars a few years ago, the Legislature promptly approved a law forbidding local governments from regulating cellphone use."
The Florida Department of Transportation has begun a "Stay Alive, Just Drive" campaign that targets drivers who text message, talk on cell phones or engage in other distracted driving behaviors.
HB 1127 is the product of the "Ought to Be a Law" competition. The teenage texting legislation was developed by high school students in the Tampa Bay area and sponsored by Rep. Kevin Ambler, R-Tampa, who runs the contest.
Another student campaign was initiated at a Nova University branch in Davie: "It looks to me like the state Legislature is more concerned with a healthy bottom line for cell phone companies than it is with people dying on our roads," said one of the students involved in the "Stop Texting and Telephoning in Cars" project.
Miami-Dade commissioners in early December 2008 approved a plan to ban drivers from use of cell phones and all other wireless devices in school zones. The state Legislature and governor must approve the ban.
The text-messaging legislation is given a good chance of success in the Florida legislature, which has yet to approve a single restriction on drivers and wireless communications devices.
Nine bills were proposed during Florida's 2008 legislative session concerning use of handheld cell phones and/or text messaging devices. None made it out of committee.
The identical HB193 and SB504 died in committee in May 2008. These bills would have prohibited drivers under the age of 18 from using cell phones or text messaging. They came from Senate Transportation Chairman Carey Baker, R-Eustis, and Rep. John Legg, R-Port Richey.
In September 2008, the debate over using cell phones while driving heated up after a truck driver told officers that he'd been on the phone just before hitting a school bus, killing a 13-year-old from Ocala.
In October 2008, Tallahassee Democrat columnist Jim Messer urged text-messaging limits. He wrote:
Last year's attempt to pass a bill outlawing texting while driving in Florida was opposed, and eventually killed, by big telecom. Why would the telecom industry kill a law designed to protect citizens while admitting that no one should text while driving? We all already know the reason: profit. Worldwide, texting produces revenues of more than $100 billion per year. Any attempt to limit texting, even while operating a moving vehicle, reduces big telecom's big profits. Sadly, the results were predictable.
Florida's counties and cities are prohibited from enacting their own cell phone restrictions due to former Gov. Jeb Bush's direct intervention.
The first attempt to legislate the use of handheld cell phones while driving came in 2002. There has been legislation regarding driving and cell phone phone use each year since.
In 2006, a hands-free bill was rejected by the state Legislature.
The Legislature also refused to allow cities and counties to install cameras at intersections where running red lights is a frequent violation. Legislators said it's a "privacy issue."
"Florida lawmakers said while they agreed the issue needs legislative attention, they would need more data and more details before considering a specific bill," the Gainesvillle Sun reported.
"You already see people at red lights text messaging or punching in things into their BlackBerries when they should be paying attention," said Rep. Charles "Chuck" Chestnut, D-Gainesville. "Now, you're going to see more eyes focused on their iPhones than driving. With the increase in new technology, I think there should be some type of increased regulation to protect the safety of innocent people who are giving their full attention to the road."
Florida is one of several states that have seen email hoaxes about cell phone laws. A bogus email that circulated last summer said, incorrectly: "As of 08/01/07 cell phone use must be 'hands free' while driving. Ticket is $285. They will be looking for this like crazy — easy money for police department."
From the Highway Patrol: "We're seeing more drivers doing an actual variety of tasks other than driving. This is from balancing your check book right on down to watching a DVD movie that's plugged into an accessory plug on the dashboard even though the law says not to do it," spokesman Lt. Mike Burroughs said. "People are doing a myriad of other things other than driving, and they don't see anything wrong with it."
The Florida Department of Highway Safety & Motor Vehicles says cell phones are frequently cited as factors in serious accidents, but has not taken a position on hands-free legislation.