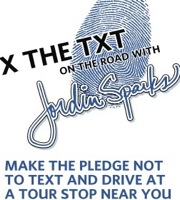 Here's a new one in the world of distracted-driving safety campaigns:
South Florida teens who proved themselves to be superstars of text messaging were awarded free tickets to a concert by "American Idol" star Jordin Sparks.
One catch: They had to pledge to never text and drive.
The idea for the unusual safety contest came from Stacy Kagan, an Allstate Insurance agent in Coral Springs. "We're trying to encourage teens to be aware that texting kills," Kagan told the Miami Herald. Allstate's "Thumbs Up to X the TXT" has been working its way across the nation since November.
First-place "winner" Sydney Trinker turned in a cell phone bill that showed 38,000 texts in a single month. She and her family signed Allstate's no-texting pledge — and is off to see Sparks in concert. (Teens could only submit previous cell phone bills.)
Sparks' summer "Battlefield" tour hosts "X the TXT" events in 29 cities. "Choosing to not pick up the phone and keep your eyes on the road can be the difference between life and death," the young singer said.
Teens who pledge not to text message and drive can add their thumbprints to a traveling banner displayed at concert stops.