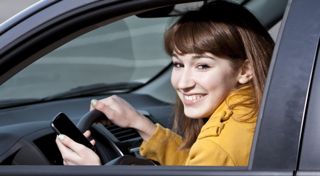 A law prohibiting all cell phone use by novice drivers is now in effect in Wisconsin.
The law primarily affects state drivers under the age of 18, but also applies to drivers of any age with various types of probationary licensing.
The Wisconsin teen distracted driving law specifies use of "a cellular or other wireless telephone," but does not extend to other portable electronic devices. The ban applies to all cell phone use, regardless of whether a hands-free accessory is engaged.
Fines under the Wisconsin law range from $20-$40 for the first offenses. For subsequent convictions within a year, the fines increase to $50 to $100.
Text messaging already is banned for all Wisconsin drivers. The state also has a general distracted driving law that predates the texting and cell phone bans. Read more about Wisconsin's distracted driving laws.
"Traffic crashes kill more teenagers in Wisconsin and the rest of the nation than any other cause of death," said Sandra Huxtable, director of the Wisconsin Bureau of Transportation Safety. "And distracted driving is a factor in many of these crashes."
State Rep. Kathy Bernier's Assembly Bill 291, source of the graduated license law, was approved unanimously by the House and Senate early this year. The governor signed it into law March 29, and it took full effect Nov. 1, 2012.
Bernier, R-Lake Hallie, found bipartisan support for the teen ban. "Cell phone use is terribly distracting, even for seasoned drivers," Hallie said. Opponents of distracted driving laws that target teens point out that legislators are more likely to approve bans affecting drivers who cannot vote.
Unlike in many states, Wisconsin lawmakers have not yet filed legislation seeking to ban handheld cell phone use by all drivers.
The new Wisconsin cell phone ban also applies to drivers of all ages with probationary state licenses.
Specifically, that includes drivers last licensed in other countries; people with suspended or revoked instruction permits or probationary licenses; new Wisconsin residents with fewer than three years of driving experience and/or are under age of 21; and new residents who surrender a license that has been expired for more than a half year.