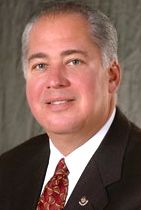 "I want West Virginians to remain free from distracted drivers," Gov. Earl Ray Tomblin told lawmakers back in January. They listened.
The governor's advocacy proved to be the key to breaking the state's long deadlock over distracted driving, with the Legislature approving his plan to outlaw text messaging and the use of handheld cell phones for those operating motor vehicles.
(Update: Tombin signed the West Virginia distracted driving legislation into law on April 3. This article originally posted March 10, 2012.)
As time expired on the legislative session late March 10, the House and Senate reached a compromise on their dueling versions of Tomblin's bill. The Mountain State's distracted driving law takes effect July 1.
West Virginia becomes the 36th state to ban texting & driving, once Tomblin signs his own legislation. (View the West Virginia distracted driving news page.)
Fines are $100 (first offense), then $200, then $300. Three points will be assessed against driver's license on third and subsequent violations.
The House and Senate rewrites of Tomblin's bill differed primarily on the matter of enforcement. The House wanted primary enforcement for both texting & handheld cell phone use, in order to help police carry out the law. The Senate version, however, had texting as a primary offense and handheld cell phone use as a secondary one.
In the end, they compromised by delaying primary enforcement of the cell phone law for a year.
And so police in West Virginia can stop and cite drivers who text as of this July 1. Handheld cell phone users cannot be stopped solely for that violation until July 1, 2013, but they can be cited in connection with other offenses, such as speeding or crossing center lines.
Legislators have gone back and forth on a handheld cell phone ban since at least 2008.
Tomblin, pictured, first proposed the plan that became Senate Bill 211 in his State of the State address in January. His measure called for secondary enforcement of both offenses, but his office signaled support for tougher enforcement throughout the legislative process.
"The texting part really takes your eyes off the road," Tomblin told the Charleston Gazette. "That was more important, but I'm fine with what they worked out."
A late amendment requires the state Department of Transportation to post advisory signs on highways at the state's borders.
Outlawed activities include using smartphones to access the Internet and to play games.