Seat belt/child restraint legislation (2013-2014)
Senate Bill 5574: Would make failure to comply with child-restraint laws admissible as proof of negligence in civil actions. (King)
House Bill 1696: Would make failure to comply with child-restraint laws admissible in civil lawsuits. (Rodne)
HB 2295: Would require lighted message alarm to alert ambulance driver when passenger is not using a safety belt. (Van De Wege)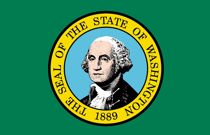 Seat belt laws: Drivers and passengers over age 16 must wear seat belts. Drivers barred from operating vehicles unless passengers under age 16 are wearing belts or fastened into child-restraint devices. Doctor's note required for exceptions. "Does not apply to a vehicle occupant for whom no safety belt is available when all designated seating positions are filled." View the Washington state seat belt statute.
Child-restraint laws: Under age 8 and under 4 feet 9 inches (57 inches), children must be transported in child-restraint devices. For children 8 years of age or older, or 4 feet 9 inches or taller, safety belts or child-restraint device required. Children under age 13 to be transported in back seats "where it is practical to do so." Exceptions: When only lap belt is available and child weighs more than 40 pounds. Also, for-hire vehicles, shuttles, school buses. Ticket dismissal: Proof of acquisition of approved child-restraint system or booster seat within seven days, unless repeat offense. Read the Washington state child-restraint statute.
Vehicles affected: Sales and registration of vehicles manufactured after 1964 barred unless front seat has safety belts (detail).
Background: Washington state was a leader in adoption of strong child-restraint laws. The Anton Skeen Act was adopted in 2000. The booster-seat initiative was named in remembrance of a 4-year-old from Walla Walla who died after he slipped out of his seat belt in an SUV rollover accident. (President Bush in 2002 signed a national version of Anton's Law.)