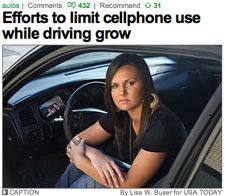 USA Today's Money section did a drive-by today on nationwide legislative activity concerning cell phones and driving.
The story doesn't even mention text messaging, which is the driving force behind most 2009 wireless communications legislation affecting motorists.
In the wake of the L.A. commuter crash, legislatures have rushed to address texting while driving this year. Proposed bans against use of cell phones without hands-free devices are mostly being ignored or defeated, or watered down just to prohibit texting.
Put simply, this is shaping up as a rotten year for those who'd like to see bans on yapping and driving.
Only a few state legislatures are seriously considering handheld cell phone legislation this year, although the USA Today story offers statistics suggesting this is a red-button issue across the land:
"More than 250 bills prohibiting or restricting cellphone use while driving are pending in 42 state legislatures despite disagreement over the risks cellphones pose and the effectiveness of enforcement. … The number is up from about 120 bills in just 18 states 10 months ago, according to an analysis by the Insurance Institute for Highway Safety."
Cell phones often are cited in text-messaging laws, because so many people text with them these days. As in text messaging with an iPhone while driving. But most text messaging legislation bans texting on a cell phone, not talking on a cell phone. Some of the texting bills specifically permit drivers to enter phone numbers in order to make a call.
In any case, the numbers are there on cell phone legislation — as they are every year — but that doesn't make for a trend or translate into much of a likelihood that legislators are actually working on the issue.
You could argue, in fact, that legislatures have embraced anti-texting legislation because those bans are widely approved of by voters in most states. And that activity helps lawmakers dodge the equally important issue of talking on cell phones while behind the wheel.
Oh yeah: Texting has no lobby except angry teens.
Like this blog post? Sign up to get Hands Free Info via email or RSS.