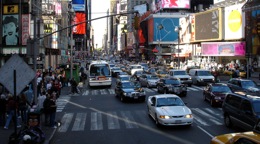 Bans on handheld phones do work, and they work best in urban areas, according to a university study of traffic fatalities and injuries.
A University of Illinois team looked at New York state in the years before and after its 2001 ban on handheld cell phones.
All 62 counties in New York recorded lower motor vehicle injury rates after the ban, while 46 posted lower traffic fatalities — 10 of them at statistically significant levels.
When looking at three major population centers — the Bronx, New York and Queens — the personal injury decrease was more notable than in less populated counties.
"Hand-held cell phone bans are very valuable in high-density urban areas, but less so in lower-density rural areas," said computer science professor Sheldon Jacobson. "But that doesn't mean they have no impact in rural areas. It just means that such legislation is less likely to have an impact on driver accident rates."
The Illinois study (PDF) comes on the heels of an insurance-industry report that concluded handheld cell phone bans had little value. That study looked at collision claims following New York's ban and found reductions, but dismissed them as part of a downward trend also found in neighboring states.
That widely publicized study by the Highway Loss Data Institute did not account for vehicles over 3 years old and did not include cell phone-related accidents in which claims were not filed. The National Highway Traffic Safety Administration called the study "irresponsible."
Jacobson, who relied on publicly available data on fatalities and injuries per numbers of licensed drivers, said availability of insurance industry data on property damage would improve the reliability of his results.
Still, "All the evidence suggests handheld cell phone bans while driving are a good thing, and this is more evidence to that effect," he said. "But it doesn't establish it definitively. There's still more work to be done."