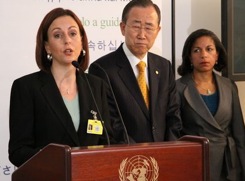 Secretary General Ban Ki-moon has thrown the U.N.'s weight behind a global push to stamp out distracted driving.
Ban also has ordered the U.N.'s 40,000 staffers to stop texting while behind the wheel of the organization's vehicles.
Ban said at a New York gathering for the global distracted driving campaign: "We are seeing a major emerging challenge of driver distraction, mainly by using mobile phones. Together we have a message to all drivers of the world — don't let using a mobile for a few seconds make you and others immobile for life."
(Photo, from left: Jennifer Smith, Ban Ki-moon, Susan Rice)
U.S. Transportation Secretary Ray LaHood, an avowed hardliner on texting and cell phoning by drivers, said at Wednesday's event:
"Distracted driving isn't just a deadly epidemic in the U.S. — it's a threat around the world. We believe our nations can do more to stop distracted driving if we work together. 
"The Obama administration stands ready to work with other countries so that we can put an end to dangerous driving behaviors and make the world's roads safer for everyone," LaHood said.
Last fall, President Obama banned texting by federal employees while they're driving government vehicles. (Text continued below.)
Russian Ambassador Vitaly Churkin noted that distracted driving was a focus of November's Global Ministerial Conference on Road Safety in Moscow.
"Russia is ready to engage with the United States and other interested countries in defining the ways to mainstream (the fight against distracted driving) into global road safety cooperation agenda," Churkin said.
The "global anti-distracted driving effort" wasn't detailed by the speakers, but it "has an active online component that will allow other countries, safety organizations, and anti-distraction campaigns to share news and research as well as multimedia and other information," according to a DOT release.
Thirty-two countries — including Russia, Brazil, France, Japan, Jordan, Spain, Taiwan, and the United Kingdom — have passed laws that restrict drivers' use of handheld devices. Portugal has outlawed all phone use by drivers. ("Some of the world's nations are far ahead of us on this," LaHood wrote on his DOT blog.)
Ban said in some companies, 90 percent of drivers used mobile phones.
No statistics were available on the global cost of distracted driving, but the DOT said vehicle crashes around the world claim 1.3 million lives each year — roughly one death every 30 seconds.
U.S. Ambassador Susan Rice said, "Texting while driving isn't a harmless little habit. It's a killer. It affects every nation on Earth. The suffering it causes is terribly direct and immediate—lives lost for no reason, futures shattered in an instant. But its toll is truly global. So this is a problem that needs global attention and action."
Also on hand was an emotional Jennifer Smith, co-founder and president of the survivors activist group FocusDriven. She spoke of how her mother was killed by a young man who ran a red light while using his cell phone.
"It is a human problem affecting the entire world. … These victims are real people. These are human lives being taken for a phone call."