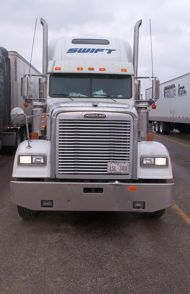 A study of professional truckers indicates that even pros are severely handicapped while text messaging behind the wheel.
The Virginia Tech Transportation Institute's study found that the truckers were 23 times more likely to get in a wreck while texting. The researchers placed video cameras in the cabs of long-haul trucks over a year and a half period. About 100 truck drivers participated.
In the collisions recorded by the cameras, drivers typically looked at their text messaging devices for five seconds before the accident, the New York Times said in reporting on the Virginia Tech texting study.
The video cameras were focused on drivers' faces in the seconds before a crash or a near-miss.
Researchers said the danger of crashing while texting applies to all drivers, since they did not find texting behaviors out of the ordinary among the professional truck drivers. The institute is also studying teenagers who text while driving, and the results seem in line with the trucker data.
The estimate that drivers who are texting are 23 times more likely to crash is significantly higher than other studies have reported.
The Federal Motor Carrier Safety Administration helped pay for the texting and trucking study.
Virginia Tech and the University of Utah are among the most active research operations looking at various forms of distracted driving.