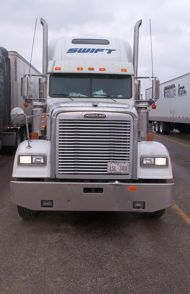 The federal government says truck drivers can't talk on handheld cell phones. Fair enough, the pros say — but what about the "four wheelers" who cause most of the wrecks involving trucks?
A week after that federal ban on handheld cell phone use went into effect, the trucking industry seems to have the issue in its rear-view mirror. But some truckers still want to know why professional drivers are being singled out.
"I am so tired of hearing, 'The feds can't do anything with four-wheelers,'" one pro wrote in an industry forum. "If they're gonna travel the same roads I do, they can follow the same laws."
Lyndon Finney, editor of the industry publication the Trucker, told Hands Free Info: "Truckers are concerned, of course, about the use of cell phones by passenger vehicle drivers since data show that about 75 percent of truck-related accidents are caused by the action of the passenger vehicle driver."
Another forum complaint went: "There needs to be a ban on everyone to ensure fair and equal treatment and application of the law. Come on, lawsuits."
And: "This is the stuff shutdowns are made of."
Cell phone use by the public remains legal in most of the U.S., but nine states have banned handheld use. In California, for instance, a motorist who was a first offender would be fined $20 (plus fees). Interstate commercial truck drivers now face fines of up to $2,750 for each offense. "(That) puts me in bankruptcy," one trucker said.
The Federal Motor Carrier Safety Administration, which made the trucking rule, does not have officers out writing tickets, so enforcement will be dependent on state and local authorities, who may or may not have local laws against cell phone use. A few states such as Missouri gave notice that they would be enforcing the federal trucking law.
The ruling does not apply to all commercial drivers. The regulation targets drivers of large commercial vehicles involved in interstate commerce, and those hauling dangerous materials. A small-business delivery vehicle, for example, wouldn't be included. (Read the commercial trucking cell phone rules.)
"When drivers of large trucks, buses and hazardous materials take their eyes off the road for even a few seconds, the outcome can be deadly," said Transportation Secretary Ray LaHood. He said he hopes the rule will result in drivers being "laser-focused on safety at all times while behind the wheel." 
For most of the industry, though, it was business as usual when the federal rule went into effect with the new year.
The American Trucking Association, for instance, supports the federal action.
"The trucking industry in general favors the ban on use of hand-held cell phones while the truck is in motion, and probably is divided equally on the issue of a ban of the use of hands-free devices," industry journalist Finney said.
Many large commercial companies already have policies against cell phone use by their drivers, including UPS and Wal-Mart.
"It's a regulation, in an industry full of regulations," one trucker shrugged.
Driver Ray Nickels of Marshfield, Mo., said: "Were an altogether different species. It's just something we have to learn to live with. We will be treated differently than anybody else because we are professionals and we are under a microscope all the time because we are the biggest ones out there. When something goes wrong, we are usually the ones there whether we did anything or not, we are the ones who get seen."
Some drivers brought up the use of CB radios, which have not been restricted: "The CB is way more distracting/annoying than a cell phone," one pro wrote.
Another trucker noted: "Plenty of accidents have been caused by drivers using the CB. There is no 'record' of use during an accident so any feel-good legislation simply doesn't have the same bang for the buck as cell phone laws do."
The hands-free question will be moot soon enough, Finney predicted: "There is little doubt that the day is not too far away that in-dash electronic technology will become common and allow a driver to make and receive voice-activated cell phone calls without taking his or her hands off the steering wheel."
Safety seemed to be the bottom line for some of the pros:
"Talking on a cell phone while driving is nothing but a distraction," said Charles Isaacs of
South Carolina. "I don't do it. I tried it and I couldn't do it. I couldn't keep my mind focused on what I was doing. I don't see how other people do it."
Another pro wrote during a forum debate: "IMO, this should have been addressed a long time ago. We are the professionals and should know better."
And: "I don't care if you are driving a CMV (commercial motor vehicle), a car, a bike, a horse & buggy — if you feel the need to talk while you're driving get a hands-free device."