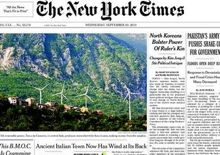 The debate over text messaging while driving generated the most news headlines of all technology-related topics, a journalism study found.
The dangers of texting while behind the wheel generated 8.5 percent of the technology stories in the mainstream media, according to the project "When Techology Makes Headlines." One in 10 technology stories were dedicated to the subject over a 12-month period, said the report from the Pew Research Center's journalism unit.
The most prominent coverage came in the New York Times series "Driven to Distraction," which won a Pulitzer Prize. The NYT project looked at "the dangers of drivers using cellphones and other electronic devices, and efforts to deal with the problem."
Of the media studied, newspapers and radio news programs dedicated the most attention to the debate over text messaging while driving. The Pew study speculated that since the radio headlines tended to come in "drive time," perhaps they were used as cautionary tales.
By comparison, print newspapers underweighted their coverage of Apple and its many tech developments. Overall in the media, Apple's iPhone attracted 6.4 percent of tech stories, second to texting.
The study compared the distracted driving coverage with other technology news topics:
Texting while driving received more than five times the amount of attention as legislative stories such as the National Broadband Plan for the United States and more than six times the number of stories as the controversy over net neutrality, a legal decision that could have a large impact on the future of the Internet.
The study's definition of mainstream news included newspaper front pages, cable and network news, radio programs and some news Web sites. News operations dedicated solely to tech were not included. The report on texting and driving news coverage examined the period June 1, 2009, to June 30, 2010.
Researchers said coverage of texting while driving was steady through the period, not keyed to a particular event.