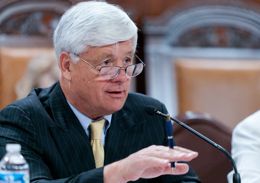 Pennsylvania drivers will no longer be able to text message as of early March. Gov. Tom Corbett signed off on legislation Nov. 9 that bans texting while behind the wheel.
Fines will be $50. Enforcement is primary, which allows police to pull over drivers for that infraction alone.
"No text message is worth a human life," Corbett said during the bill-signing event. "The message of this legislation is drive now and text later."
(This content first posted on Nov. 1 and updated on Nov. 9.)
Pennsylvania has become the 35th state to outlaw texting while behind the wheel. The state's long-running drama over distracted driving legislation will continue, however.
A provision in Senate Bill 314 that would have banned use of handheld cell phones while driving was removed by the House's Republican leadership and the Senate went along, in order to get some kind of distracted driving law on the books.
The Senate voted Nov. 1 to approve the bill, a day after the House voted in favor of the measure.
The Senate already approved the bill earlier in the year, when it included a ban on use of handheld cell phones while driving. The House removed the mobile phone provision in mid-October and the Senate signed off on that change Nov. 1.
SB 314 sponsor Sen. Tommy Tomlinson, R-Bucks (pictured), said after the vote against texting & driving: "It's one of the most important things we can do to prevent needless tragedies. Texting is one of the most dangerous distracted driving activities that motorists engage in. … The consequences can be deadly."
House majority leader Mike Turzai, R-Allegheny, indicated that legislation that would ban the cell phones remained under consideration. That's good news for police, who under the new law will have to determine if a driver is texting or simply punching in a phone number.
Numerous distracted driving measures were submitted for the 2011 legislative session, as in past years.