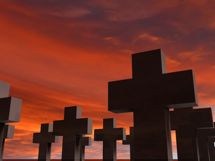 Text messaging killed more than 16,000 people on the nation's roads and highways between the years 2002 and 2007, according to a new study.
The statistics led researchers to cite an "alarming rise in distracted driving fatalities," based on "a dramatic" increase in text messaging since 2005.
Researchers from the University of North Texas Health Science Center crunched the numbers on trends in distracted driving fatalities, driver and crash characteristics, and overall trends in cell phone use and texting usage. The primary source was the federal Fatality Analysis Reporting System.
Distracted driving-related fatalities fell in the period from 1999 to 2005, but increased 28 percent after 2005, rising from 4,572 fatalities to 5,870 in 2008.
"The increase in traffic fatalities since 2005 appears to be related to a shift in how handheld devices are used," researchers said. The past six years has seen an explosion in the functionality of cell phones — audio, video, interactivity, applications — on units such as the iPhone and handheld devices running on Android software.
The authors suggested a mandate that new cars should come equipped with Bluetooth functionality that allows drivers to make calls without holding a phone. They also called for tougher law enforcement activity: "Criminal charges for texting while driving and routine examination of cell phone records in accident investigations may act as effective deterrents to drivers," the team said.
The study found that "crashes increasingly involved male drivers and collisions with roadside obstructions in urban areas." 40 percent of distracted driving-related crashes occurred in urban centers (year 1998).
The distracted driving report first appeared in the American Journal of Public Health.