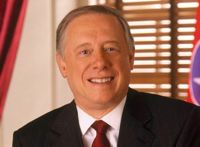 Tennessee Gov. Phil Bredesen has signed into law a ban on text messaging while driving, as expected.
Enforcement will begin July 1.
The Tennessee ban on text messaging while driving comes with a $50 fine for violators and $10 court costs. It is a non-moving offense, meaning no points are added to the driver's license and there are no insurance problems.
Enforcement is expected to come into play when drivers commit other violations or get into accidents, law enforcement agencies indicated after the May 13 signing.
The Senate bill went through a lot of push-and-pull before crossing the desk of Gov. Bredesen (pictured). Sen. Jim Tracy, R-Shelbyville, was the sponsor.
A similar House bill was folded into the successful Senate bill. In committee, Rep. John Lundberg, R-Bristol, was grilled about his texting bill HB 107.
A fellow Republican asked why he was singling out texting while driving as opposed to, say, "eating a bowl of chili or a cheeseburger."
"Frankly 90-some percent of us don't have a hamburger strapped and attached to our waist," Lundberg replied.
SB 393 was finally approved by the Senate in a 22-6 vote on April 23 and then by the House on April 27, with amendments. Senators OK'd the final texting bill on April 30.
Tracy's previous attempt died in a subcommittee last year.