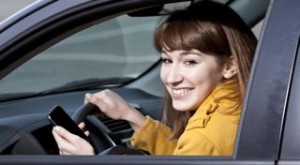 Teenagers know all about the dangers of texting and driving, but most of them do it anyway.
Those who don't probably have frequent talks with their parents about safety.
That's the takeaway from a phone survey of 652 teens taken by Harris Interactive.
Almost six in 10 teenagers with driver's licenses surveyed admitted to texting & driving.
The idea that texting behind the wheel is the new drunken driving didn't find much support with the kids.
Of the 14- to 17-year-olds who have a license or plan to get one (almost all of the teens), 63 percent strongly agree they will get into an accident if they regularly text and drive. But they're far more fearful of drinking and driving, with 83 percent agreeing that they're likely to get into a crash if they regularly drink and drive.
35 percent of the teens said they probably would be killed if they persisted in texting and driving, compared with 57 percent who felt that way about drunken driving.
State Farm insurance, which backed the survey, said the numbers hadn't changed much since its similar study in 2010. Media attention and education efforts regarding distracted driving have increased significantly in that two-year period.
More than 8 in 10 of the teens who said they didn't text and drive reported that they talk with their parents about safe driving. Of the teens who said they do drive and text, more than 6 in 10 said they had those talks.
The study found that parent-teen interaction about safety declined significantly once the teens received their driver's licenses, however. Teens with learners permits were twice as likely as those with full licenses to report safety talks with their parents.
The phone survey was conducted in early February. Of the 652 teens, 280 had some kind of license and 362 were about to do so.
Meanwhile, a Pew study of texting behaviors found that three-quarters of 12- to 17-year-olds text on cell phones, with the median number of messages put at 60 a day.
For older girls, the number was 100 messages a day. Use by older boys is on the way up, researchers said.
The study addressed overall text messaging behaviors, not distracted driving.
Only a third of the teens said they used land lines (traditional phones). 39 percent said they engaged in voice calling daily, compared with the 63 percent who text.
Related research: