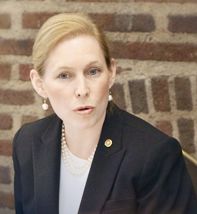 Federal lawmakers have renewed their campaign for a nationwide standard for graduated driver licensing that would outlaw use of cell phones and text messaging for the young motorists.
Sen. Kirsten Gillibrand, D-N.Y., and Rep. Tim Bishop, D-N.Y., reintroduced the Safe Teen And Novice Driver Uniform Protection Act (STANDUP Act) this week.
Parents who lost teens in traffic accidents joined with safety and insurance groups Tuesday on Capitol Hill to show their support for the act, previously introduced in 2009 and 2010. It failed to become law in the previous Congress.
A day earlier, the Department of Transportation and Consumer Reports announced their partnership to cut down on teen distracted driving deaths.
STANDUP Act sponsor Gillibrand (pictured) told the press conference: "Our teens just need to have the opportunity to have the chance to learn in the right circumstances, so they can build their skills, so they aren't taking risks too early, without those skills to protect them. …
"The nation should follow New York's lead and establish strong minimum requirements for graduated driver's licenses in all 50 states."
The House's Bishop said: "There isn't a state in the nation, including New York, that has dodged the terrible suffering associated with preventable teen deaths in car crashes year in and year out. The STANDUP Act will make roadways safer for future teens, their families, and friends."
Other sponsors of the act include Sen. Amy Klobuchar, D-Minnesota, and Rep. Chris Van Hollen, D-Maryland.
Other graduated driver licensing rules proposed by the act include a limit on the number of passengers allowed, a minimum licensing age of 16 and a prohibition of unsupervised nighttime driving.
Many states use graduated driver licensing but write their own standards, resulting in a patchwork of laws. Six states, for example, allow teens to apply for licenses at age 14. Under the act, a full driver's license would not be issued to any driver under the age of 18. Drivers must first show success with a learner's permit and an intermediate license, with decreasing restrictions.
Some states already ban the use of cell phones and texting devices by young drivers, and more are considering the action via legislation introduced this year. Opponents have said the bans single out teens while studies show adult drivers exhibit many of the same dangerous behaviors.
The federal government can't actually force states to adopt any set of driving rules. Instead, the carrot-and-stick approach rewards states that meet the minimum standards for graduated driver licensing with extra funding and withholds highway funds from states that don't.
Advocates say that more than 40,000 teens have died in crashes over the past five years.
The DOT's Roy LaHood and Consumer Reports unveiled a brochure warning of the dangers of distracted driving by teenagers. It was designed as an action plan for parents and educators (PDF).
A survey taken last fall by Consumer Reports reports that the majority of drivers under the age of 30 had used a handheld cell phone in the previous month. Only about a third showed concern for the risks of distracted driving.
LaHood said at the Consumer Reports event that he was not ready to commit to federal restrictions on in-vehicle interactive services such as Ford's Synch and GM's OnStar.
"We base our solutions on data, and before I or anyone else gets up and starts talking about 'hands-free this' or 'hands-free that,' or Sync or whatever, we want to have good data to back it up," LaHood said.