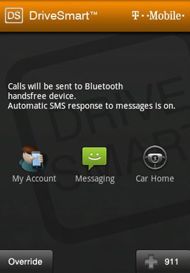 T-Mobile has come to market with what it calls "the "industry's first carrier-grade service" that puts the brakes on distracted driving by teens.
DriveSmart Plus is a full-featured subscription service that can be applied to all lines on a customer's account. Priced at $4.99 a month, the system engages when a vehicle is in motion, sending incoming calls directly to voicemail and temporarily preventing access to text messages. People who call or text the phone user get an auto-response saying he or she is driving.
Other upper-tier distracted driving solutions have similar functionality — such as Taser's new Protector system and the TeenSafer subscription service — but DriveSmart Plus comes with a wireless carrier's branding, support and billing, an industry first. Although the app works only with the Optimus T smartphone (review), other brands and models are on the horizon, T-Mobile says.
The basic DriveSmart app already comes preloaded on that Andriod phone, but has no subscription requirement and must be manually engaged.
With the DriveSmart Plus app and service, parents can choose to get texts or emails when the distracted driving app's emergency override is employed. Parents can monitor incoming calls and texts coming through the cell phone during the override via a website. Phone users who are passengers in a vehicle may use the override as well, with the same notifications.
The T-Mobile Optimus T goes for about $30 with phone service, making it popular with budget-limited teens.
"We continue to invest heavily in mobile personal safety services, for which we are seeing huge demand from consumers and families," said Tasso Roumeliotis, CEO of Location Labs, which developed the DriveSmart apps.
T-Mobile USA vice president Torrie Dorrell said: "We feel strongly that with this freedom comes the responsibility to use their phones only when it is safe to do so."