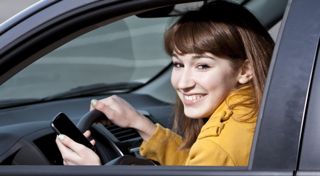 Distracted driving continues to increase in the U.S. — despite new laws, widespread safety education and saturation media coverage — several new reports suggest.
"Most Americans believe this problem is becoming worse," said Peter Kissinger, president of the AAA Foundation for Traffic Safety, which surveyed almost 4,000 motorists for its Traffic Safety Culture Index.
Researchers in California report that electronic distracted driving doubled in the state from 2011 to 2012, citing a "substantial and dramatic" increase in use of handheld electronics. Smartphone sales grew about 45 percent last year.
And another high-risk group has emerged. A study of mothers of children under age 2 found eight in 10 talked on cell phones while driving with their babies. The moms' electronic distracted driving rates are similar to those of teen drivers, the report said.
In the AAA survey, more than two-thirds (69 percent) of licensed drivers self-reported that they talked on a cell phone while driving within the past month. 35 percent said they read a text or email over the same period, while 27 percent reported sending a text or email.
Yet 89 percent of survey respondents said they considered cell phone use by other drivers a threat to their safety. 95 percent said they disapproved of texting and emailing while behind the wheel.
"90 percent of respondents believe that distracted driving is a somewhat or much bigger problem today than it was three years ago, yet they themselves continue to engage in the same activities," AAA's Kissinger said in releasing survey results Jan. 25.
Motorists who regularly use cell phones are more likely than others to engage in other dangerous behaviors such as texting, speeding and drowsy driving, AAA reported.
AAA found that more than half of young drivers (16-24) reported having read a text or email in the past month. Slightly more than a quarter said they use social media while driving.
Mothers with babies proved to be as much a high-risk group as teens, according to a report published in the January issue of American Baby magazine. That survey of about 2,400 mothers with children under age 2 indicated almost eight in 10 moms talked on cell phones while transporting their babies. Slightly more than a quarter of the surveyed moms admitted to texting or checking email.
10 percent of the mothers reported being in a crash with their babies aboard — three times the overall public's accident rate.
"While we expect new moms to feel exhausted, we were shocked by their lack of focus while driving, especially when their baby or toddler is in the car," American Baby editor Dana Points said.
63 percent of the surveyed moms said they were more careful behind the wheel since having their babies.
Meanwhile, a report out of California supports the theory that the distracted driving problem is, in fact, getting worse.
The second Observational Study of Cell Phone and Texting Use (PDF download) says the percentage of drivers engaging in electronic distracted driving was up in 2012 (6 percent) compared with 2011 (4 percent).
---
Read a roundup of
distracted driving research
.
---
Researchers made 5,664 vehicle observations at 129 sites in California (February-April 2012). The methodology was the same as the first observational study.
Use of handheld cell phones and texting are illegal for California drivers. The overall figures did not include drivers seen using hands-free accessories
.
Not surprisingly, young California drivers engaged in electronic distracted driving at a rate higher than other age groups. The percentage soared from 2011 (5 percent) to 2012 (11 percent).
The state Office of Traffic Safety study also found that drivers with children under the age of 8 were more likely to drive distracted than those without the kids.
In March 2012, the Office of Traffic Safety reported a dramatic decline in state deaths due to handheld cell phone use while driving.
California drivers received mixed signals on distracted driving during the term of Gov. Jerry Brown.
In 2011, the governor vetoed a stiff increase in cell phone and texting fines that had been approved by the California State Assembly. In 2012, Brown vetoed a lesser increase in distracted driving fines.
In 2012, Brown approved a law allowing for hands-free texting. That change had limited application in the field — handheld cell phone use was never banned for the state's adult drivers — but media reports characterized Brown's move as a softening of distracted driving policy.