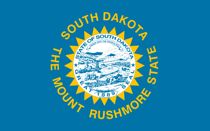 The House and Senate of South Dakota regrouped on the issue of texting & driving, and sent a plan to the governor's desk.
The fine for text messaging while driving in South Dakota would be $100, but offenders would have to be engaged in another violation in order to be ticketed.
The deal, reached by a second conference committee March 13, was basically the same as the Senate's original bill, which was rejected by the House. Both houses' legislation called for secondary enforcement.
(this report updated March 13)
Lawmakers battled over the issue of local control, with the House seeking to undo any city or county laws. Senators preferred to let local ordinances stand rather than override them with a weaker statewide law. The compromise plan left local control intact.
The House's controversial version that eliminated local distracted driving laws was approved by the Senate March 10, but with a confrontational amendment that sought primary enforcement of text messaging while driving. The House rejected those changes and the matter couldn't be resolved in a conference committee that ultimately decided to let the matter die for the year.
State Sen. Mike Vehle, who had the Senate plan and authored the amendment to the House bill, said it "just didn't seem right" to take away local distracted driving ordinances in exchange for the weak statewide law proposed by the House.
State Rep. Brian Gosch expressed disappointment that the Senate would not vote on his plan as passed by the House. His HB 1177 originally targeted just the local laws, but was expanded to a weak texting & driving measure with a $25 fine and secondary enforcement. Gosch maintains individual city traffic laws are illegal.
Vehle's plan to outlaw text messaging while driving in South Dakota was approved by the Senate in a 26-7 vote on Feb. 21, but the House Transportation panel rejected it March 6. It, too, sought secondary enforcement for texting & driving.
All three senators on the conference committee rejected a compromise amendment March 12 that would have combined a $100 fine with secondary enforcement. That vote effectively ended the discussion, but a new conference committee was appointed.
Local distracted driving laws are in effect in Huron, Watertown, Brookings, Mitchell, Vermillion, Aberdeen and Sioux Falls, with Rapid City close to joining the group.
South Dakota and South Carolina both have seen significant local regulatory action in the face of inactivity at the state level. They remain among the few states that do not ban text messaging and driving by all drivers.
The only statewide South Dakota restriction on use of wireless communications devices affects drivers under under age 18 with restricted/learners licenses.