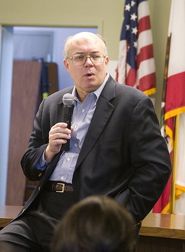 Seeking "a more significant deterrent," California State Sen. Joe Simitian has filed legislation that would more than double fines on the trio of distracted driving laws that he created in recent years.
Simitian defended the laws' effectiveness last week — reacting to a widely publicized study that shows cell phone bans don't work.
On Monday, he announced the filing of California Senate Bill 1475.
"I've heard repeatedly that the current fines are too modest," Simitian told the Mercury News. "They wouldn't be anymore."
The state senator's latest distracted driving legislation would:
Increase fines for using handheld cell phones while driving to $50 (first offense) and $100. Current fines are $20/$50.
Boost the penalty for text messaging while driving in California to $100 (each offense). Current fines are $20/$50.
Mandate a drivers license point for each offense, often leading to an increase in auto insurance rates.
Bicyclists would be included in the cell phone and texting prohibitions.
Simitian, D-Palo Alto, said compliance with California's distracted driving laws has been good, but "there's room for improvement." The real cost of moving violation tickets in California can be up to four times the amount of the fine.
The measure also would route $10 of the fines to state education programs regarding the risks of cell phoning and text messaging while driving. (Read the full text of SB 1475.)
Simitian's press release on SB 1475 renewed his defense of California's ban on drivers' use of handheld cell phones, citing Highway Patrol figures for 2008 and 2009.
"A lot of folks are sitting down to dinner with their families every day, who might otherwise not have made it," he said last week.
A recent study released by an insurance industry trade group suggested there was no meaningful improvement in accidents in California (and New York) after the ban on handheld cell phones, even though the raw numbers clearly indicated a drop. It cited similar downward trends in neighboring states.
Simitian and the U.S. Department of Transportation blasted the study.