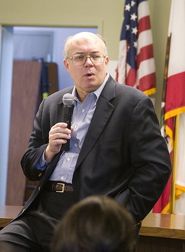 California state Sen. Joe Simitian has heard enough about cell phone bans not working.
Simitian came out in defense of his ban on drivers' use of handheld cell phones, armed with California Highway Patrol data. "A lot of folks are sitting down to dinner with their families every day, who might otherwise not have made it," he said.
CHP numbers show a 20 percent reduction in fatalities and collisions in the six months following implementation of that California cell phone ban. The bill was signed into law in 2006 and went into effect on July. 1, 2008.
Simitian said 2009 was equally successful, based on preliminary numbers: "That translates to at least 700 fewer fatalities and 75,000 to 100,000 fewer collisions each year."
He said CHP numbers also showed "an immediate drop" of 40 percent to 50 percent in accidents blamed on cell phone use.
A widely cited (and criticized) insurance industry study found "no notable change was apparent coincident with enactment of the state's hand-held cellphone ban." Researchers from the Highway Loss Data Institute looked at data from insurance collision claims of vehicles under 3 years old and did not include accidents in which claims were not submitted.
Simitian has called the release of the study's findings "largely a nonevent" due to the limits of its data. The publicity generated by the HLDI study most likely inspired Simitian's release of the CHP figures.
California's number of cell phone subscriptions and the number of drivers have increased significantly over the period, his July 17 press release stated, making the data "doubly compelling."
"We've been able to reduce the number of deaths and crashes even as we've seen more drivers and more cell phones out on the highway."
Simitian also authored the 2008 legislation that banned text messaging while driving on California's roads and highways.