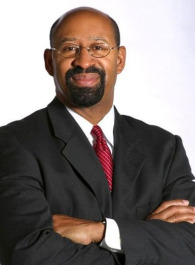 Mayor Mike Nutter of Philadelphia has signed off on the City Council's ban on talking on handheld cell phones while driving.
The mayor did so under threats from state legislators. The Pennsylvania House on Monday approved an amendment that would prevent the state's largest city from receiving $90 million in gas-tax and highway-repair funding if it went ahead with the ban. There is no state ban on handheld cell phones for all drivers.
"We are doing what we think is in our best interest," he said Thursday while signing the cell phone legislation at a media set-up. " If your hands aren't on the wheel, you impair your ability to operate a vehicle."
The mayor's office has called the state DOT policy against individual city driving laws "highly ambiguous."
On the same day Philadelphia enacted its cell phone law, a local driver who was talking on her phone allegedly caused a city bus to plow into parked cars and an above-ground subway pillar. Sixteen people, include a toddler, were injured, police reported.
The Philadephia prohibitions on handheld cell phones extend to bicyclists, motorcyclists, skaters and skateboarders. Fines for using handheld phones or text messaging begin at $150 ($75 if paid in 10 days) and top out at $300. Violations will not be considered moving offenses, meaning no points or insurance problems.
Background:
Pennsylvania House leans on Philly
Philadelphia Banishes Handheld Cell Phones