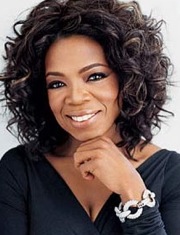 Gov. Jennifer Granholm had been expected to sign Michigan lawmakers' ban on text messaging while driving. No one figured she'd be doing it on "The Oprah Winfrey Show."
Granholm signed the bill in downtown Detriot, during a rally shown live on the second live "Oprah" special dedicated to the dangers of distracted driving. "Thanks for your leadership," the governor said to the talk show host.
The "Oprah" program also broadcast parts of no-cell-phone rallies in Atlanta, Los Angeles, Boston and Washington, D.C.
Winfrey declared April 30 "National No Phone Zone Day," named after her distracted driving campaign and petition.
U.S. Secretary of Transportation Ray LaHood said he was "proud to support and participate in Oprah's 'No Phone Zone Day.'"
"This show takes it to an all-new level of awareness," LaHood said on the broadcast, commenting from Washington. "It's an epidemic in America because everyone has a cell phone. Everyone thinks they can drive safely with a cell phone."
Granholm enacted the no-texting law at General Motors Co.'s headquarters. The carmaker asked its employees and dealers to sign the "No Phone Zone" pledge.
The Michigan Legislature's text messaging ban was approved more than a week ago, but the final dot was applied April 28.
The bill originally called for secondary enforcement, but was upgraded to primary in the Senate. The law takes effect July 1.
Winfrey's first show dedicated to distracted driving was called "America's New Deadly Obsession" (view Oprah video).
The No Phone Zones rallies were organized with "Oprah" show stations WSB-TV Channel 2 in Atlanta, WCVB-TV Channel 5 in Boston, WXYZ Channel 7 in Detroit, KABC ABC7 in Los Angeles and WJLA ABC7 in Washington, D.C.
"Oprah has an ability to change the world," a man who lost his son noted on the last show.
(This report has been updated with information from the broadcast.)