The Ontario government followed through with plans to crack down on distracted drivers, proposing maximum fines of $1,000 and three points vs. offenders' licenses.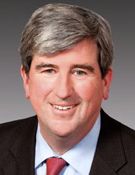 Transportation Minister Glen Murray, left, introduced the "Keeping Ontario's Roads Safe Act" on March 17. The increased penalties for handheld cell phone use and texting had been sought by safety advocates and law enforcement: "Everyone's been saying you've got to put (distracted driving) in the same range as drinking and driving," the minister said.
The distracted driving changes were anticipated, and followed action by the chief justice of the Ontario Court of Justice to raise the fine for using a handheld wireless communications device to $280 from $155.
Distracted driving fines would range from $300 to $1,000 under the plan. The current range is $60 to $500. Demerit points are used to trigger higher auto insurance premium rates.
Other changes in the government's legislation include new protections for bicyclists and pedestrians. The government's plan also would increase supervision of drunken driving offenders.
"This legislation would keep people who use our roads safer — drivers, cyclists and pedestrians alike," said Murray, who called the plan "an all-party bill."
Safety advocates have been calling for tougher distracted driving penalties in the province, saying current punishments weren't deterring those who make phone calls and text while behind the wheel.