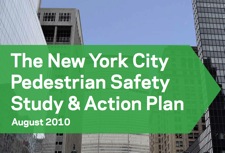 New York City's study of its severe/fatal pedestrian accidents points to distracted driving as public enemy No. 1.
"The most common reason listed for a crash was driver inattention, a factor in 36% of pedestrian (killed or seriously injured) crashes," the report by NYC transportation planners found.
The distracted driving accidents proved to be more than twice as deadly as those with other causes.
The study looked at more than 7,000 crashes in the city between 2002 and 2006. In the four years since that time, "electronic distracted driving has become more pressing as cellphones, computers and other portable devices further distract the driver," the study noted.
Drivers are barred from using handheld cell phones in New York City, while taxi drivers are not allowed to use any cell phones. (Taxi drivers were involved in only 16 percent of the NYC accidents studied.) "In 2009, the NYPD issued on average 617 summonses a day to drivers using hand-held cell phones," the transportation researchers said.
Overall, the city's rate of traffic fatalities continues to decline, with 2009 the best on record.
"In a dense urban environment like New York City, the failure to pay attention to who (and what) is in the road is crucial," the study concluded. "The streets are consistently populated by a wide range of users (pedestrians, bicyclists, buses, trucks, taxis) all competing for the same roadway space."
The recommendations in the New York City Pedestrian Safety Study & Action Plan did not address distracted driving, however.