Last updated: July 7, 2017
New York has again strengthened its penalties for text messaging and driving. Gov. Andrew Cuomo also pushed through the legislature enhanced penalties for young drivers who ignore the texting law.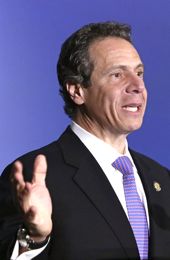 "No parent should have to experience losing a child at the hands of a text message," the governor said at a May 31 news conference.
"It's amazing how chronic and prevalent this activity is," Cuomo said.
Effective immediately, DMV demerits against a texting offender's license increase from 3 to 5 points, making the distracted driving infraction an even-more significant factor in determining auto insurance rates. The added points also apply to handheld cell phone violations.
Two years ago, Cuomo unilaterally increased the DMV points for using a handheld wireless device from 2 to 3. At his urging, the Legislature promptly made texting while driving in New York state a primary offense.
The governor also proposed new legislation that would hit novice drivers who text message behind the wheel with the same penalties they now receive for speeding and reckless driving.
Update: The Assembly and Senate quickly complied, rushing through passage of S5656 (and A7739) with votes on June 5.
The legislation provides that a driver with a restricted license would face a 60-day suspension for a first conviction of illegal texting, while subsequent offenses within six months would bring revocations of 60 days (for junior licenses) or 6 months (for probationary licenses).
No license suspensions or revocations are possible under current New York distracted driving laws.
"As the father of three teenagers, I know firsthand the importance of instilling safe practices in our young drivers who are developing lifelong habits as they learn to navigate the road," Cuomo said. "Inattention and inexperience is a deadly combination — one this legislation seeks to deter."
The governor also ordered the New York State Police to increase enforcement of the current texting-while-driving ban throughout the summer, beginning this weekend. The 100 days between Memorial Day and Labor Day are known as the deadliest days on the road for teenagers.
Cuomo's office said that as a result of his previous crackdown, there was a 234% increase in the number of tickets issued for texting while driving from 2011 to 2012.
For teenagers, a smartphone "is almost an appendage — it's almost glued to their hand," Cuomo said.
New York State Police Superintendent Joseph A. D'Amico said: "Distracted drivers will not be tolerated in New York State. Drivers who text or talk on mobile devices … put lives at risk. Our message is clear — motorists who use a cell phone or electronic device while driving will be ticketed."
Ben Lieberman, a distracted driving activist who lost a son in a crash linked to cell phone use, attended Cuomo's news conference, saying: "To say smartphone-driving impairs you to the level of a drunk driving is almost cliché nowadays. … Yet the behavior continues and traffic casualties are increasing rather than decreasing. … Legislation that will deter this destructive behavior is badly needed."