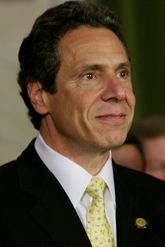 Saying that "current warnings, educational programs and driving laws aren't working," Gov. Andrew Cuomo has proposed legislation that would crack down on drivers using a variety of portable electronics.
The governor's plan would make drivers' use of any portable electronic device subject to primary enforcement, meaning police would not need another reason to stop and cite them. Handheld cell phone violations already are marked for primary enforcement in New York.
Cuomo's plan also threatens repeat violators with loss of their driving privileges: The governor calls for an additional point against offenders' licenses, making the demerits for texting or talking on handheld cell phones total three.
(Update: Gov. Cuomo said he would add the third point at an administrative level, after that plan failed in the legislature. He also signed legislation July 12 making texting a primary offense.)
"We need to impose a true deterrent to stop people from driving while using an electronic device and to keep our roads and citizens safe," Cuomo said June 10.
Handheld cell phone violators in New York just began receiving two points in February, an action taken to make the penalty consistent with existing text messaging laws.
"Distracted driving is nothing less than a lethal activity for the driver themselves, other drivers on the road, and pedestrians," Cuomo said.
The New York Senate already approved a plan giving primary enforcement status to the offense of text messaging while driving. The measure was sent to the Assembly on May 3 and is expected to pass in the coming days.
The governor's plan is broader, covering numerous electronics devices, such as tablet computers and smartphones.
That bill's sponsor, state Sen. Carl Marcellino, R-Long Island, told the New York Times he was concerned about the number of electronic devices outlawed under the governor's plan: "I think we have to be careful because it's a very expansive bill."
The legislation would mandates that distracted driving be included in New York's defensive driving courses and materials.
DOT chief Ray LaHood checked in after news of the Cuomo plan broke: "I commend Gov. Cuomo for introducing strong legislation that will help save lives and put a stop to dangerous distracted driving behavior on New York roads."
Read more about New York's distracted driving laws.