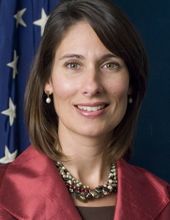 The new boss at the National Transportation Safety Board is a fan of BlackBerries, but not of hypocrisy.
After her ceremonial swearing in Tuesday, NTSB chairman Deborah Hersman announced a ban on text messaging and talking on cell phones for all staffers who are driving during work hours.
The policy extends to texting and cell phoning on personal time if the driver is using a federally owned wireless device.
Hersman, appointed to the post by President Obama, noted that "the risk of catastrophic consequences is too great." She noted her own addiction to her BlackBerry. The new policy applies to her as well as the 400 or so employees of the NTSB.
The small, independent federal agency has previously called for policies against cell phone use by school bus drivers, public transit operators and young drivers with restricted licenses.
Hersman called the internal ban "a sterile-cockpit rule." The NTSB is best known for its investigations of airplane crashes.