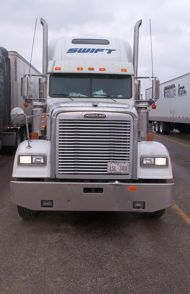 All cell phone use by all commercial drivers should be prohibited, the NTSB has recommended.
National Transportation Safety Board chairwoman Deborah Hersman called tractor-trailer rigs "80,000-pound unguided missiles" when their drivers are distracted by cell phone use.
The U.S. Department of Transportation already is working on a plan to prohibit interstate commercial truck and bus drivers from using hand-held cell phones. Text messaging by interstate truckers already is prohibited.
The NTSB pointed to a horrific 2010 crash near Munfordville, Ky., in which the driver of an 18-wheeler crossed the highway median and slammed into a passenger van. Eleven people died, including the truck driver, who apparently was talking on his cell phone at the time of the accident.
The NTSB stated:
Investigators determined that the driver used his mobile phone for calls and text messages a total of 69 times while driving in the 24-hour period prior to the accident. The driver made four calls in the minutes leading up to the crash, making the last call at 5:14 a.m. CDT, coinciding with the time that the truck departed the highway.
"Distracted driving is becoming increasingly prevalent, exacerbating the danger we encounter daily on our roadways," the NTSB's Hersman said. "It can be especially lethal when the distracted driver is at the wheel of a vehicle that weighs 40 tons and travels at highway speeds."
Under the plan, truck drivers would only be allowed to make mobile phone calls in emergencies.
The NTSB recommendations were made to the Federal Motor Carrier Safety Administration and "to the 50 states and the District of Columbia." The board itself cannot make regulations.
Many large interstate carrier companies already prohibit their drivers from using cell phones and text messaging.