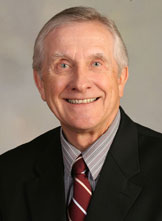 North Dakota, one of the few remaining states without any distracted driving law, has just become the 31st state to ban text messaging while driving.
State Rep. Larry Klemin's House Bill 1195 prohibits all drivers from using a wireless communications device to read, write and send an electronic message (includes email).
The bill was signed April 26 by Gov. Jack Dalrymple. The North Dakota texting and driving law takes effect Aug. 1, with fines of $100. Enforcement is primary.
Dalrymple said at the signing ceremony: "Texting while driving is clearly a dangerous distraction that can result in serious injury or death, and I'm glad to see we are joining a growing number of states that are taking this action to make our roads a safer place."
In 2009, Klemin (pictured) saw his bill that would have banned text messaging soundly defeated in the House.
The governor also approved the sweeping teen traffic safety bill House Bill 1256. Among its provisions is a ban on electronic communications device use by drivers under the age of 18. That means no texting or talking for teen drivers — no hands-free devices.
North Dakota currently has no statute that punishes distracted driving.
Sponsors of both successful bills pointed to North Dakota's getting in step with the nationwide movement toward meaningful distracted driving and teen safety laws.
"Today, North Dakota joins 30 other states and the District of Columbia in enacting a law to prohibit texting while driving by all drivers," said Klemin, R-Bismarck, of his HB 1195.
"House Bill 1256 moves North Dakota closer to the rest of the country in helping young drivers receive more opportunities to gain driving experience, promote driving safely, reduce teen accidents and most importantly, save young people's lives," said sponsor Rep. George Keiser, also R-Bismarck.
The governor added that "our youngest and most inexperienced drivers will benefit from a process that will better prepare them for the road and help keep them and others safe."
Distracted driving fighter Ray LaHood, secretary of Transportation, press-released: "North Dakota has taken an important step to eliminate distracted driving. Thanks to the bill signed today by Governor Dalrymple, North Dakota roads will be safer for everyone."
The text messaging ban was initially rejected by the House Transportation Committee. The panel then deadlocked twice on the bill, but a supporter changed his vote to "no" so the measure could finally move out of committee and on to the House floor, where it was approved.
The bill was watered down in the Senate, however. The following penalties for texting behind the wheel were removed by Senate on March 28, just before voting its approval: "Two points against license (first offense), then four points. For third and subsequent violations, one-year suspension of driver's license."
The House gave its final approval April 5.