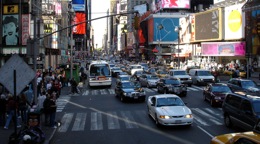 Saying "New Yorkers are driven to distraction with their smartphones," city traffic officials reported a 23 percent increase in traffic fatalities.
At the same time, the city's transportation chief relaunched a safety campaign featuring "LOOK!" curb markers that are being employed at the metropolis' most dangerous intersections.
291 people died in traffic accidents from July 2011 through June 2012, according to the Mayor's Management Report, a "public report card" on city services. 176 of them were cyclists or pedestrians. That's the first increase since 2007.
Distracted driving contributed to nearly 9,200 people being injured and 41 killed in New York City crashes in 2010, the last full year for which detailed traffic crash data is available. That makes inattentive driving the No. 1 cause of accidents in the city, traffic officials said.
About 57% of New York traffic fatalities involve pedestrians.
"The simple act of looking can prevent thousands of crashes and injuries every year," New York City Department of Transportation Commissioner Janette Sadik-Khan said at an event attended by U.S. DOT chief Ray LaHood.
The report did not specify distracted driving or distracted walking as contributors to the increase in deaths, but Sadik-Khan said that could well be the case.
She told the New York Times: "I don't think that the iPhone has invented an app yet that will ping you when you hit a crosswalk."
In the first seven months of the governor's distracted driving crackdown, 69,211 cell phone tickets were handed out in New York City. Text messaging tickets totaled 3,509. Most of the distracted driving tickets were written in Manhattan and Brooklyn.