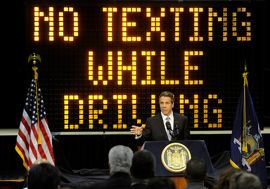 Gov. Andrew Cuomo's state police feasted on text-messaging violations over the Thanksgiving holiday, handing out 816 tickets.
"The more than 800 tickets issued in just five days further demonstrates the need for these stricter laws which focus on drivers who put others at risk by illegally using a hand-held device," the New York governor said after the ticket tally.
The statewide distracted driving sweep "Operation Hang-Up" ran Nov. 23-27. State Police said about 330 of the texting tickets came as a result of that crackdown. The other ticketing came via regular enforcement of the state's texting and cell phone use laws, which yields about 1,000 tickets a month.
Cuomo targeted distracted driving last summer (pictured), signing off on the Legislature's plan to make texting (and use of various handheld electronic devices) while driving a primary offense. Cell phone use already was subject to primary enforcement in New York.
At the same time, Cuomo ordered the DMV to assess a third point against the drivers licenses of texting and cell phone violators.
The statewide number of texting-while-driving tickets increased from an average of 429 per month to 1,000 in the wake of primary enforcement.
The Governor's Traffic Safety Committee funded Operation Hang-Up via a grant from the National Highway Traffic Safety Administration.
Several state traffic officials said the New York distracted driving sweeps would continue thanks to the federal grant.
"Using a hand-held device while operating a motor vehicle is illegal, and through future enforcement campaigns we will continue to make sure our roadways are safe for all New Yorkers," said Barbara Fiala, commissioner of the DMV.
The New York holiday ticket sweep was announced Nov. 17.