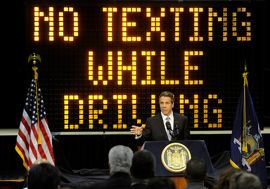 New York means business with violators of its texting and driving law: The governor signed legislation giving primary enforcement status to the offense.
That means law officers can stop and cite offenders of the state's electronic distracted driving laws. Handheld cell phone use already carries primary enforcement status in New York.
Gov. Andrew Cuomo also said he would order the DMV to carry out his plan to assess a third point against the drivers licenses of texting and handheld cell phone violators.
"It's plain and simple: Distracted driving leads to tragedies that have affected families all across New York," Cuomo said while signing the bill in Manhattan on July 12. "This new law will help ensure that drivers keep their eyes on the road and their hands on the wheel."
The Assembly and Senate on June 14 approved the texting plan, sponsored by Sen. Carl Marcellino, R-Long Island, and Assemblyman Harvey Weisenberg, D-Nassau County. The law resulting from bills S5643 and A8106 did not increase penalties for violators — just increased the chances of their being pulled over and cited. The fine for violations remains at $150.
The governor's plan for the third point did not clear the legislative, so he's doing it administratively, via state regulations. New Yorkers who text and drive became subject to 2-point penalties earlier this year. That rule change brought handheld cell phone violations in line with penalties under the state's newer (2009) text messaging law.
Marcellino said at the texting-bill signing, "With this new legislation, New York State driving laws have finally caught up with today's technology."
Weisenberg added, "As a former police officer, I've seen the devastation caused by distracted drivers. Today, we are giving law enforcement the tools they need to keep our roads safe and prevent future accidents.