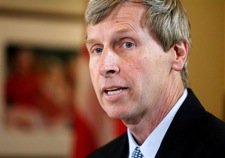 New Hampshire drivers can no longer legally text message and drive come Jan. 1.
Gov. John Lynch signed legislation Friday that prohibits using two hands to type on an electronic device. Entering numbers on a cell phone is allowable.
"It is clear that texting while driving poses a serious danger on our roadways. This new law sends a strong message that drivers should be attentive to the road, and those around them at all times," Lynch said.
Meanwhile, in Oregon, Gov. Ted Kulongoski has signed off on HB 2377, which bans texting for drivers and also limits use of cell phones to adult motorists, only if they employ hands-free attachments.
The New Hampshire anti-texting measure, House Bill 34, reads specifically: "A person operating a moving motor vehicle who writes a text message or uses 2 hands to type on or operate an electronic or telecommunications device, is guilty of a violation." That offense brings a fine of $100.
Rep. Richard Drisko, R-Hollis, saw the amended version of his HB 34 approved by the House on March 24, 2009, on a 222-137 vote. The text messaging safety measure advanced to the Senate, where it was approved by the Transportation Committee in a 5-0 vote on May 14 and then by the full New Hampshire Senate on May 20.
Read more about New Hampshire text messaging and cell phone laws.