Last updated: September 18, 2015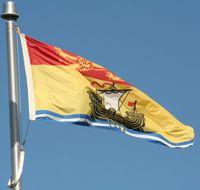 New Brunswick RCMP said in early October 2014 that they'd written almost 600 distracted driving tickets so far in the year. That's roughly on pace with the number from 2013, which totaled 763. The fine for violating New Brunswick's distracted driving regulations is $172.50 plus three points against the driver's license.
New Brunswick RCMP reported that in the first full year of the distracted driving law, they'd issued more than 672 tickets. "There are still New Brunswickers who continue to use handheld devices while driving, or who have gone back to their old habit of doing so," a New Brunswick RCMP spokesman said June 6, 2012.
(View the full Canadian distracted driving news report.)
New Brunswick's bans on text messaging and handheld cell phone use while driving took effect June 6, 2011, with no "grace" (warning) period. The law also prohibits the programming of GPS devices while driving.
"I know it will be an inconvenience for people early on, or at least some people will think it is," New Brunswick Premier David Alward said on the eve of enactment. "But from a public safety perspective, it's vitally important." In 2009, only four MLAs backed a cell phone ban.
Moncton undercover: That homeless guy might be about to hand you a distracted driving ticket. RCMP officers in the southeastern city are dressing up as citizens in order to catch drivers who are text messaging or using handheld cell phones. In July, CBC News interviewed an officer who has disguised himself as a construction worker, homeless man and a bicyclist. Police plan to continue their costume party throughout the rest of 2012.
Bathurst police wrote 64 distracted driving tickets in the first eight months of the law.
RCMP officers say they're seeing compliance, along with a fair number of scofflaws: "Officers are seeing people pulled over on the side of the road to talk on their cell phones and (are) seeing many people using hands-free technology," said Sgt. Claude Tremblay of the J Division Traffic Section.
A RCMP spokesman said of the lack of a warning period: "We have been telling people (for a long time) that it's coming, so be prepared for it. It's almost like they had their grace period." About 50 tickets were written in the two weeks after the law took effect, the Royal Canadian Mounted Police in New Brunswick reported.
New Brunswick's distracted driving law was amended in April to allow for voice-command and one-touch operation of electronic communications devices, due to commercial lobbying and public feedback. Also allowed are use of in-dash operational screens and electronics needed by telecommunications workers.
New Brunswick Public Safety Minister Robert Trevors said: "These changes make the legislation stronger and more enforceable as handheld device manufacturers and the automotive industry adapt their products to be more safety conscious. … (The law now) allows for changing technology and for people who require communications devices for their jobs." Most major car makers are selling or developing Internet-connected in-dash systems.
The New Brunswick distracted driving rules were approved by the legislature in late November 2010 and received a royal sign-off on Dec. 17. The New Brunswick talking & texting bans were expected to go into effect in May 2011, although it appears they will be delayed. They prohibit text messaging and cell phone use (unless a hands-free device is employed). Also banned is drivers' viewing of portable entertainment devices such as DVD players and portable computers. GPS data entry prohibited while vehicle is moving. Fine of $172.50 plus three points. New Brunswick was the last province to ban texting and driving.
New Brunswick Public Safety Minister and Solicitor General Robert Trevors noted that "studies show that a significant percentage of collisions are the result of distracted driving. By introducing this legislation, our government is sending a message that distracted driving is not acceptable."
Attention was focused on distracted driving again in September 2010, when a New Brunswick teenager died after running off the road while texting. The CBC quoted a city councilor, David Kelly of Fredericton, as asking: "What is it gonna take? "Is it gonna take a certain ration of accidents? What do we have to do here in New Brunswick? What else is it gonna take for us to go that next step?"
Photo: Jennifer Marr