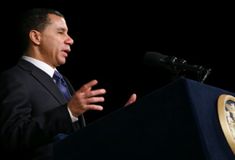 New York Gov. David Paterson wants to "take the handcuffs off" when it comes to texting and driving.
He's proposed legislation in the Senate that would upgrade enforcement of the state's 2008 texting law from "secondary" to "primary." That means law officers can stop and cite text-messaging drivers for that reason alone.
"This bill will take the handcuffs off our law enforcement officers and make our highways safer by allowing officers to observe a violation and immediately issue a summons," Paterson said in a statement on SB 222 Wednesday.
The state reports that about 200 tickets have been written since last November, when New York's texting while driving law took effect.
Secondary enforcement — usually the result of a fallback position adopted by legislators seeking distracted driving laws — has come under increasing fire from safety groups. In Washington state, the Senate has OK'd a plan to hike its texting while driving law from secondary to primary enforcement.
New York counties and cities have continued to adopt local texting bans because of the secondary provision at the state level. "New York State's law doesn't have any teeth," an Erie County lawmaker said as he pushed through a regional texting plan.
Assembly Transportation Committee Chairman David Gantt, D-Rochester, who long resisted efforts to get a text messaging law in place, said he would review the legislation.
New York was a leader in cell-phone restrictions on drivers, passing its widely copied hands-free law in 2001. Text-messaging legislation gained enough momentum to get past Gantt after an upstate crash killed five teens.
The fine for text messaging and driving in New York state is $150.