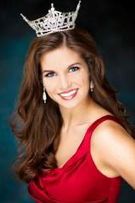 The reigning Miss South Dakota didn't triumph at the Miss America Pageant, but she's a queen on this blog.
Loren Vaillancourt lost her brother in a distracted driving accident. She made distracted driving her "cause" for the pageant, noting in the video below: "I want to be your next Miss America because I can save lives."
Vaillancourt drew praise from DOT chief Ray La Hood, who blogged that she "has done a terrific job raising awareness among young people in South Dakota." You can read posts of encouragement from her fans on this Facebook page from State Farm: SF Teen Driving.
(The new Miss America is Miss Nebraska Teresa Scanlan, whose platform was eating disorders.)
Meanwhile, belated congrats go out to Focus Driven's Jennifer Smith, who was among the finalists for the 2010 Texan of the Year honor, organized by the Dallas Morning News. Smith has moved to Chicago, the paper said, but still considers herself a Texan.
Vaillancourt's brother, Kelson, died in May 2009. He was a passenger in a vehicle that pulled out in front of a semi-truck near Huron on May 20. The driver also died. "No family should have to go through the pain my family has endured," the beauty contestant said.
"Talking about my brother's story over and over again has strengthened me," Vaillancourt told the Argus Leader. "It's given me an outlet and has opened doors for me that would normally not have been opened."