Seat belt laws: Drivers and passengers must use safety belts. Law applies to all seating positions. Exception: A person riding in a vehicle in which all seat belts are in use, and a person with a doctor's letter. Read the Minnesota seat belt statute.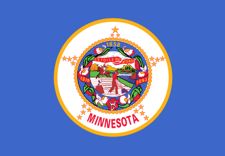 Penalties: Safety belt violations are subject to primary enforcement and tickets may be issued to the driver and passengers. Unbuckled passengers are ticketed directly. Drivers are ticketed for passengers ages 14 and younger. (Drivers are liable for their own violations, as well as the violations of passengers under age 15.) Minnesota's seat belt law calls for a $25 base fine, which typically reaches $100 out of pocket. Violations are not entered onto a driving record.
Vehicles: Seat belt law applies to vehicles manufactured from 1965 on. Does not include a motorcycle, motorized bicycle, bus, school bus, vehicle on railroad tracks, farm truck. Includes commuter vans (seven to 16 seats), pickup trucks and "recreational vehicles."
Child-restraint laws: For children under the age of 8 and shorter than 4 feet 9 inches (57 inches), a child passenger restraint system is required. Infants under 20 pounds must be in rear-facing safety seats. Exception: Child not able use device and traveling with doctor's letter. Vehicle exceptions: Taxis, airport limousines, and buses, including school buses. Rental car agents must supply child-restraint devices. Read the Minnesota child-restraint statute.
Child-restraint penalties: Fine up to $50 for driver. Fine may be waived or reduced if proof of purchase of restraint device is provided within 14 days.
Background: Seat belt violations were made subject to primary enforcement in the summer of 2009, meaning police may stop and cite offenders for that reason alone. Minnesota became the 29th state to enact a primary seat belt law. The state's primary seat belt law was named in honor of Kathryn Swanson, a longtime advocate who headed the state Office of Traffic Safety and died in 2008. Minnesota passed its first seat belt law in 1986.
2009 seat belt legislation
HF 108: Seat belt violations made a primary offense in all seating positions, regardless of age. aka the Kathryn Swanson Seat Belt Safety Act per HF 878. Signed into law by the governor May 21. (Norton)