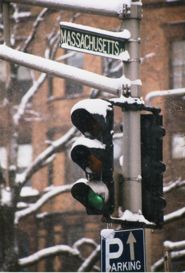 Massachusetts' ban on text messaging is now in full effect. Police are writing tickets, but the lucky might get a warning — for a while.
The new law prohibits all drivers from texting while behind the wheel and bans use of all cell phones by drivers who are 16 and 17 years old. The young drivers are barred from using a variety of devices (TVs, video, PCs) under the heading "mobile electronic devices."
The fines for adults are $100 (first offense), then $250 and $500.
Fines for drivers under 18 are $100 plus 60-day license suspension and youth traffic school (first offense), then $250 with six-month suspension and then $500 with a one-year suspension.
These distracted driving offenses are not considered moving violations and do not affect insurance premiums. Enforcement is "primary," meaning police can stop and cite texting motorists for that reason alone.
More warnings were handed out than $100 fines on day 1, local reports said.
Meanwhile, Maryland's law prohibiting handheld cell phone use while driving hit the streets as of Oct. 1. It calls for "secondary enforcement" and fines between $40 and $100.
And Connecticut's tougher penalties for distracted driving officially went into effect Oct. 1. Fines are now $100/$150/$200 instead of the previous $100. No more forgiveness for first-time offenders.
In Massachusetts, as the new law took effect, the Boston Globe editorialized:
"There's no defense for the practice; if a text message is so urgent that it must be read (or written) immediately, it's also urgent enough to merit pulling over. … For now, the new law will at least raise awareness of the dangers of texting while driving. And in time, social pressure will help more and more drivers recognize the practice as the narcissism-induced safety hazard that it is."
Gov. Patrick signed the Massachusetts distracted driving bill into law on July 2: "Texting is one of the riskiest distractions that endangers public safety and today we are joining other states by saying it will no longer be tolerated," he said at the ceremony. The signing's audience included people who lost family members to distracted drivers.
The new law is the result of a compromise between the Massachusetts House and Senate. There were significant differences in their distracted driving plans. The compromise, apparently, was the House dropping its ban on handheld cell phone use for adult drivers and the Senate agreeing to (separate) watered-down restrictions on elderly drivers.
State Sen. Mark Montigny, D-New Bedford, wasn't pleased with that deal: "I first introduced a (distracted driving) bill six years ago, and since that time, the only thing that has changed is more people have died or been seriously injured," he told South Coast Today as the law took effect Sept. 30. "To celebrate (the new law), as many have, is unfortunate, as this is years overdue."
Chapter 90, Section 13B of the Massachusetts General Laws reads as follows:
(a) No operator of a motor vehicle shall use a mobile telephone, or any handheld device capable of accessing the internet, to manually compose, send or read an electronic message while operating a motor vehicle. For the purposes of this section, an operator shall not be considered to be operating a motor vehicle if the vehicle is stationary and not located in a part of the public way intended for travel.

(b) A violation of this section shall be punishable by a fine of $100 for a first offense, by a fine of $250 for a second offense and by a fine of $500 for a third or subsequent offense.

(c) A penalty under this section shall not be a surchargeable offense under section 113B of chapter 175.