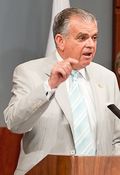 DOT chief Ray LaHood must be able to summon the hounds of hell when he encounters cell phoning drivers breaking the law in Washington, D.C., right?
Nah. "What I've been doing is kind of honking at somebody if I see him on a cellphone," LaHood told WROP radio the other day.
He calls drivers who use cell phones or text "my biggest source of irritation."
LaHood told the radio station it was his way of "taking personal responsibility" in the war against electronic distracted driving.
Never mind that vehicle horns should be reserved for alerting others to roadway danger, not telling off fellow drivers. Any traffic school graduate can tell you that.
May we suggest the one-finger salute, Mr. Secretary?