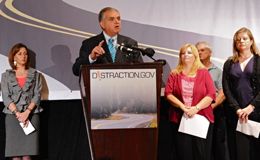 Shrugging off his critics, DOT crusader Ray LaHood reaffirmed his passion for the fight against distracted driving.
In a Washington ceremony marking the first anniversary of FocusDriven's founding, the Department of Transportation chief responded to recent public criticisms of his zeal from the former leader of the National Highway Traffic Safety Administration:
"We will not be deterred by false choices about addressing distracted driving on the one hand and alternative critical safety issues on the other," LaHood told his audience.
Jeffrey Runge, the former highway safety official, told USA Today that "we shouldn't be distracted by distraction," and instead should address larger transportation safety issues. USA Today previously published articles disputing the benefits of distracted driving laws, based in part on controversial research by the Insurance Institute for Highway Safety.
"Distracted driving is a deadly epidemic and when it comes to road safety, we will not take a back seat to anyone," LaHood said at the Jan. 20 session.
FocusDriven president Jennifer Smith, a frequent speaker at LaHood's gatherings, said, "The statistics show that it's no longer 'if' someone you know will be affected by distracted driving, it's 'when.'" The group unveiled a new PSA, "5500 campaign," which shows pictures of hundreds of victims of inattentive driving. "5500" refers to the number of people killed in 2009 whose deaths were linked to distracted drivers.
LaHood took some credit for the wave of distracted driving legislation and laws sweeping the nation. "Because of our collective efforts, 30 states have outlawed texting behind the wheel, and eight states have banned handheld cell phone use for all drivers. He said more than than 270 distracted driving-related bills were considered nationwide in 2010.
A rep for Safeway grocery stores discussed the chain's recent decision to prohibit its truck drivers from talking or texting on cell phones, or from using hands-free devices while driving. LaHood has pushed, with some success, for big business to adopt policies that should prevent distracted driving.
The Network of Employers for Traffic Safety presented results of its recent campaign promoting anti-distracted driving corporate policies. Of the 4,690 organizations that responded to the Drive Safely Work Week push, almost 90% plan to have a cell phone policy in place within the next year, NETS said.
The DOT also unveiled the latest in its "Faces of Distracted Driving" video series, focusing on a Nebraska teen killed by a texting driver.