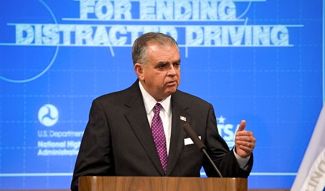 Early critics were amazed to find DOT chief Ray LaHood campaigning, fiercely, against drivers' use of distracting electronic devices such as cell phones.
He took it as a compliment.
"Am I on a rampage?" LaHood said in the early years of his term. "Yes, I am, and why shouldn't I be?"
Politicians and bureaucrats don't talk that way, but LaHood did. He cited a rising national death toll as drivers increasingly talked & texted their way down our streets and highways.
Who can say how many lives (many of them young) were saved as LaHood used the DOT's bully pulpit in his campaign against electric distracted driving. No doubt the figure would be north of a thousand.
Now comes news that LaHood is stepping down. The DOT chief was the lone Republican in the president's cabinet, a distinction explained in part by he and President Obama being pals.
Why leave? Who knows, but the move had been anticipated. Nothing odd about cabinet officials leaving at the end of a presidential term.
"I'm one of these people who believe that you should go out while they're applauding," LaHood, 67, told the AP after confirming his exit.
Let's make it a standing ovation.