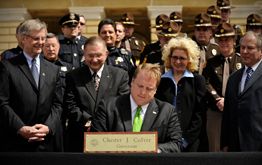 Iowa became the 21st state to ban text messaging while driving as Gov. Chet Culver signed the plan into law.
The state's public safety commissioner then presented the governor with a coffee mug that said: "Don't Drive Intexticated."
"We want to be the very best state in America when it comes to safe roads," Culver said — although the Iowa texting ban was watered down to secondary-enforcement status as it made its way through the Legislature. (The measure was a compromise by the House and Senate.)
The law's additional ban on use of all handheld electronic devices by teen drivers with learner's permits carries primary enforcement, however, meaning police can stop and cite violators for that reason alone. With the secondary enforcement, motorists can't be stopped simply for texting.
The law begins July 1, with a one-year warning (education) period.
Meanwhile, Kentucky legislators also approved a similar ban on texting and teen use of cell phones. The bill was sent to the governor on April 1 and is guaranteed his signature.
Iowa safety commissioner Eugene Meyer said at the signing: "We've now eliminated a very important distraction. Our roads are going to be dramatically safer."
The law prohibits local governments from adopting stricter bans. Dubuque recently adopted a such a law, with the mayor noting the lack of state laws. "If we have to be the leaders, then we have to be the leaders," he said at the time. Local lawmakers in some states with secondary enforcement mandate primary enforcement for their area.
"It's a common-sense, bipartisan bill that will save lives, and keep Iowa drivers safe — especially our young people," the Iowa governor said at the signing ceremony. He was joined by state troopers and police officers, as well as Democratic and Republican legislators who backed the bipartisan distracted driving bill (HF 2456)
72 percent of adults surveyed earlier in the year by the Iowa Poll/Des Moines Register responded that text messaging on the road should be a priority during the legislative season.
"The people of Iowa have had it," said Rep. Mary Mascher, D-Iowa City. "They don't want people texting and driving."